Your kids are your world, so it only makes sense that you protect them the best way you can. And when it comes to go-kart racing, you have to start with the safety equipment.
One of the most important parts of racing equipment is the helmet. So today, I am going to talk to you about the best go-kart helmets for 10-year-old kids.
Why ten years old, you ask?
In my experience, this is where kids start to be very competitive, and the speeds begin to rise. You may not agree with that statement, but as I said, it's just my experience.
How to Chose a Helmet for a 10-Year-Old
I find a few aspects essential when choosing a helmet for your child. 
Helmet durability is vital for your child's safety.
A lightweight helmet will not put too much weight on their young shoulders.
A well-ventilated helmet is important for everyone, not just kids.
What type of racer is your kid? Speedy, competitive, or cautious?
A helmet must fit the standards of your child's events and organizations.
What is The Best Go-Kart Helmet for 10-Year-Old
Now that we have determined some starting points of what is essential when choosing your 10-year-old helmets, let's look at some top choices and what makes these helmets suitable or not.
GMAX – GM49Y DOT Youth Karting Helmet
As kids grow, they learn new things, so their interests might switch occasionally. Knowing that it's best to go with cheaper options initially.
The Gmax GM49Y DOT Youth Karting helmet is precisely that. A quality helmet that will not break the bank.
It's DOT approved for street use and accepted by many youth karting organizations. It's simple, designed for a child's head, and weighs under 3 lbs.
The GM49Y uses flow-thru intake and exhaust venting. The fresh air is continuously moving from front to back through the helmet.
The liner and cheek pads of the helmet are removable for easy cleaning, and the chin straps are padded for extra comfort.
The design and range of colors are great for any kid.
Pros
It can be adjusted to three sizes as your child grows.
Designed especially with young racers in mind.
It's DOT certified.
It comes in a range of colors and graphics
Cons
There aren't very many extra features. It is a to-the-point helmet with just the basics in mind.
ZAMP – RZ-37Y SFI 24.1 Youth Racing Helmet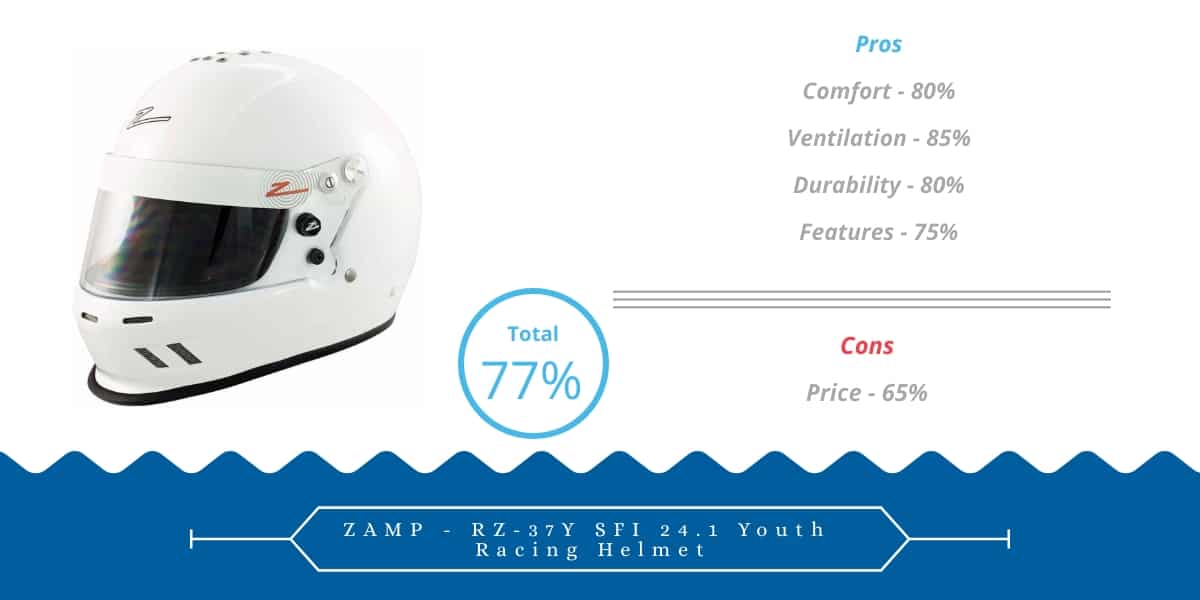 Is your racer starting to spend hours researching the sport online? Is she just starting but begging you to be registered for more events? 
The RZ-37Y SFI 24.1 is a perfect helmet for a beginner spreading her wings. It has everything a kid needs to explore their options as an evolving racer. 
The RZ-37Y is a helmet designed specifically for young racers growing into the sport. 
It features a removable interior liner for washing. 
It allows for smooth radio or hydration installation.
It is a helmet for any young racer starting to get seriously competitive. 
SFI rating of 24.1 and is DOT approved.
It is reasonably priced for any family.
Pros
This helmet has a high SFI rating.
It's DOT certified.
It features a lower chin bar to reduce buffeting.
It allows for radio and hydration installation.
Has easy-to-use head and neck restraints.
It has the space for the use of personal eyewear while racing.
Cons
This helmet does not come in very many designs.
RaceQuip – Pro-Youth SFI 24.1 Racing Helmet
Perhaps your young racer is the go-karting embodiment of Evel Knievel. If that is the case, maybe you need a heavy-duty helmet made for safety. Your kid's hard head isn't hard enough to stop you from worrying, so you need RaceQuip – Pro-Youth SFI 24.1 Racing Helmet. It will keep your child clear-sighted while whipping around the track, even as you yell to be more careful.
In other words, this helmet is a tank, and it features the following;
This helmet has an SFI rating that exceeds 24.1. 
It features a low-fog shield and a Kevlar chinstrap.
Pros
This helmet has a high SFI rating.
This helmet comes with stainless steel internal hardware.
It has vent screens and a foam shield to remove dust and dirt.
The face shield is distortion-free and 3mm thick.
It has the space to allow for personal eyewear while racing.
Cons
It weighs about 4.3 lbs, the heaviest on this list. 
Lack of colors and attractive design
Bell – M.8 Snell SA2015 Rated Racing Helmet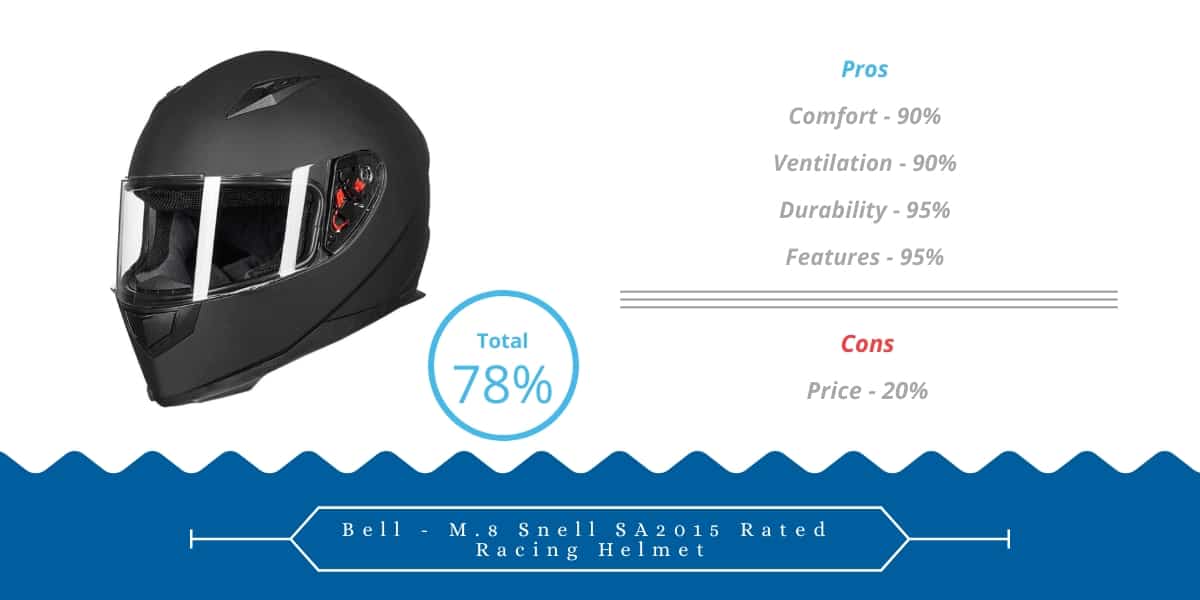 This next helmet on the list is a beautiful example of getting what you pay for. The Bell M.8 is an all-purpose helmet made for racers of all kinds. 
The Bell M.8 Snell SA2015 is the priciest helmet on the list, but it is pricey for a reason. At $500 a piece, it's a helmet made for competitive racers who know what they need.
It comes decked out in features that are advantageous to any racer. Age does not matter regarding the Bell M.8; it might just be what your karter needs.
It features an extensive range of sizes from 2XS to 4XL.
Offers the same protection for a low or high impact.
This model allows for radio integration.
It comes with hardware already installed for neck and head restraint devices.
Pros
It is an all-purpose helmet for all kinds of auto-racing fun.
It features a multi-density high-impact custom bead absorbing liner. 
This helmet follows the Snell SA2015 standard for competitive racing until 2025.
This model allows radio integration and has M6 Terminal Hardware ready to go.
Cons
It is expensive. This helmet isn't for the go-karter who is just testing the waters. 
Does not stand out visually.
Related Article: Go-Kart Helmets vs Motorcycle Helmets: What's the Difference?
Conclusion
So, which helmet is best for your 10-year-old child? There is so much to consider that it's easy to get lost while shopping around. While there are many brands and models of helmets, there are all there for one reason.
Every young go-karter needs to be protected best suited to their needs. Do not let price or design deter you from an excellent safe helmet for your child.
I hope I was able to answer your questions, and if not, please let me know, and I can take another look.