When you think about a car, you think of your typical compact car, sedan, or SUV. But you might be interested in other types of vehicles if you are looking for a little extra fun on the road.
These light, high-powered vehicles, stripped down of much of what you can find in a regular car (radio, AC, safety features), are sometimes referred to as motorcycle alternatives, exocars, trikes, etc. Nevertheless, for this article, we will call them go-karts.
Related Article: How to Make a Go-Kart Street Legal
Best Street-Legal Go-Karts
Today, we will discuss the twelve best street-legal go-karts you can buy at your local car showroom. 
We will cover the following street-legal go-karts:
Polaris Slingshot Grand Touring LE
Caterham Seven 360
Vanderhall Carmel Roadster
Campagna Motors T-REX 16SP
Ariel Atom 4
Drakan Spyder
Ariel Atom 3RS
Elemental RP1
KTM X-Bow GT
Donkervoort D8 GTO-RS
BAC Mono
Polaris Slingshot Grand Touring LE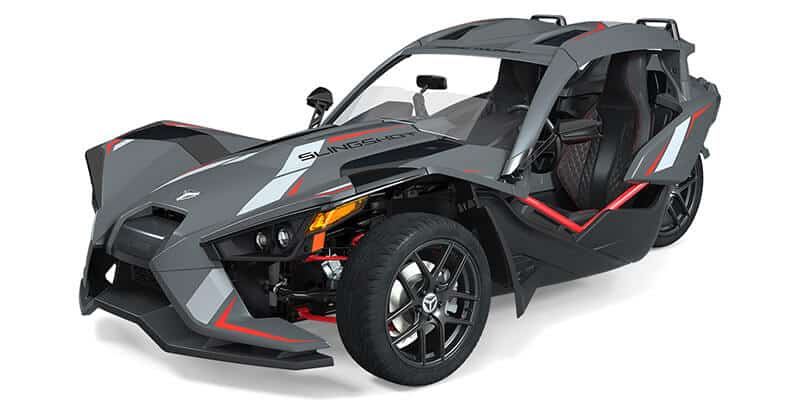 Let's start with the cheapest go-kart on the list, Polaris Slingshot Grand Touring LE. This vehicle will make you feel special, not just because of its uniqueness and luxury but also because less than 300 of them are made globally. And with a base price of just under 34k, Polaris Slingshot is a three-wheel bullet that can potentially make you money in the long run.
Polaris is one of the least potent cars on this list, with 203 bhp and 144 pounds of torque produced by a GM Ecotec 2.4L DOHC 4 Cylinder engine. Zero to 60 mph time is also not that impressive, considering it only weighs 1,640 lbs, but at 4.9 seconds is not all bad at all compared to your regular cars. A top speed of 124 mph is also not something to brag about, but do you need to go faster than that?
There are other trim levels that Polaris comes in, S, SL, SLR, and Grand Touring. If you do not want to spend 35 grand on the LE or cannot get your hand on one because no one can, you can buy Polaris S for as low as $20,999.
And in case you are wondering, Polaris does not come with an airbag. For that reason, some states might require you to wear a helmet.
Related Article: Discover The 10 Best Off-Road Go-Karts For The Ultimate Adventure!
Caterham Seven 360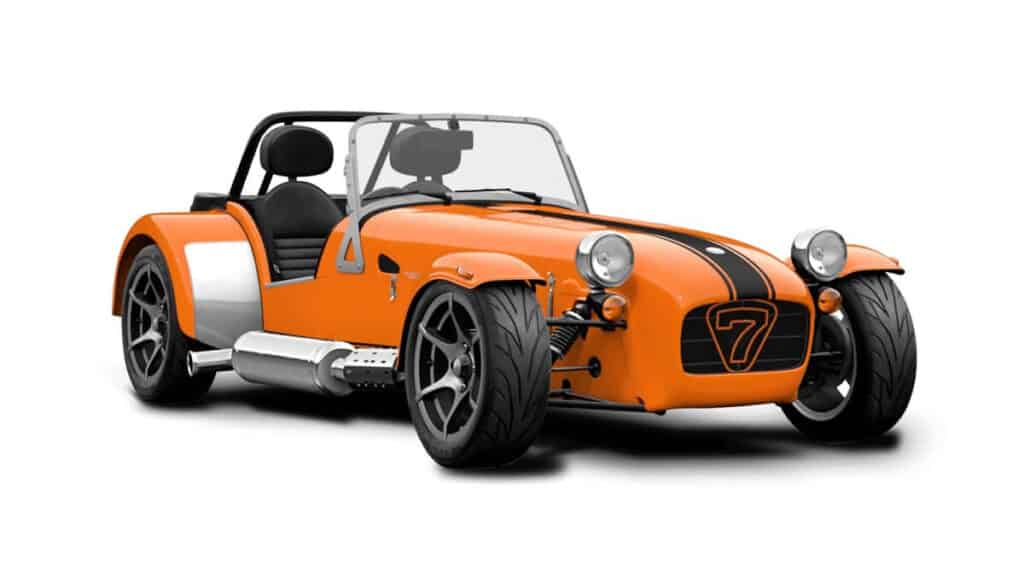 Next on the list is Caterham Seven 360, and I consider it more of a go-kart than Polaris because it has four wheels. Its naturally aspired Ford Duratec 1999cc 4-cylinder engine produces 182 bhp with 194 lbs of torque. It is less potent than Polaris but weighs an incredible 400 lbs less. At 1,235 pounds, it is the second-lightest vehicle on the list. 
You would think that a car that weighs that little would be speedy, but that's not the case. It takes 4.8 seconds for Caterham to get to 60 mph, barely beating Polaris. And considering it can only hit 130 mph, I wonder if the base price of $43,500 is justified. 
Vanderhall Carmel Roadster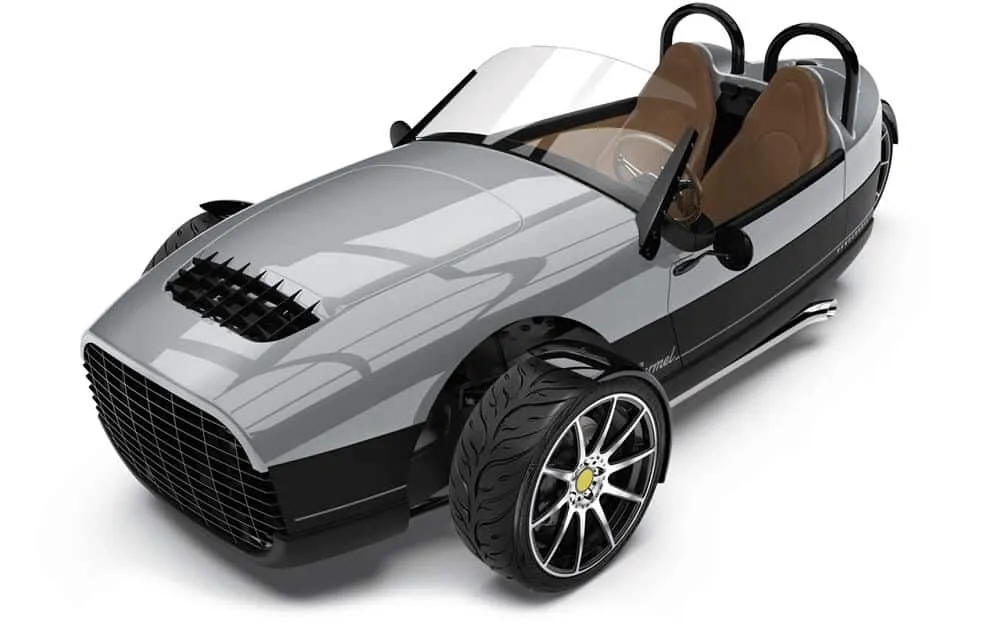 Another three-wheel two-seater vehicle on the list sports a smaller engine than the previous two, yet 0-60 is only 4.5 seconds. 1.5 L inline Turbo 16 DOHC engine produces 194 bhp and 203 lb-ft of torque. 
To justify the base price of $46,950, the manufacturer has included luxurious features, such as heated seats, a Bluetooth-enabled sound system, and a wooden steering wheel. 
Weighing only 1,505 pounds, it sits in the middle of the cars' weight list on this list. 
Retro people might enjoy the look of Vanderhall Roadster, but to me, this car is probably towards the bottom of the list of the most handsome-looking cars here. I think only the next car can match its "beauty."
Campagna Motors T-REX 16SP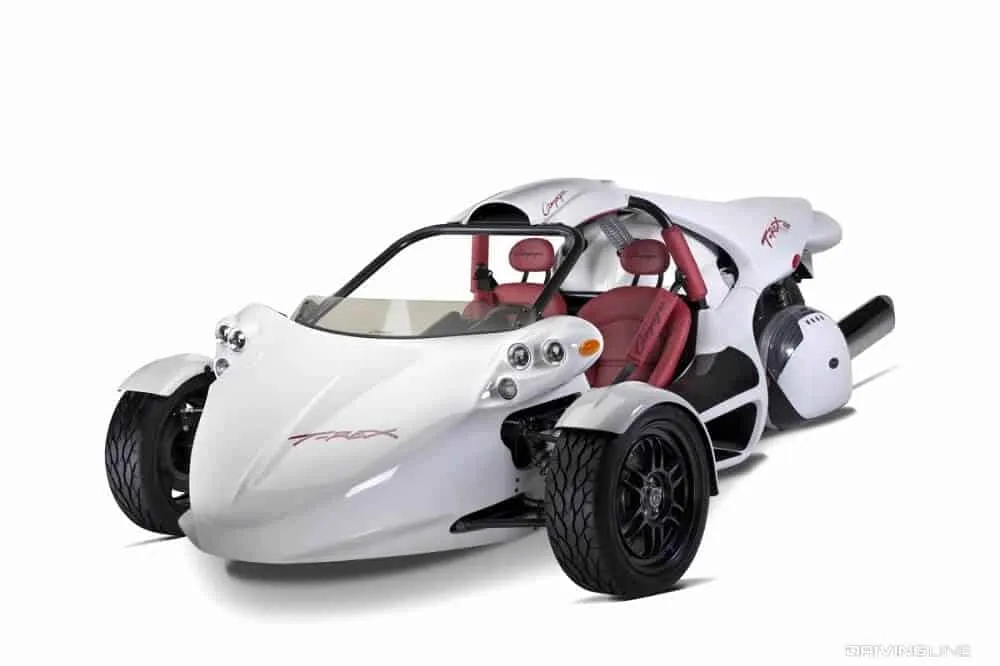 I know that personal taste is just that, personal, but this is by far the least attractive vehicle on the list. It reminds me of a frog, probably because of those hideous headlights. 
Considering that it has BMW 1649CC inline six-cylinder engine under the hood, you would expect higher horsepower and torque numbers. It only has 160 bhp and 129 pounds-feet of torque. That, however, is not reflected in the performance of the car. 
Campagna T-REX 16SP is the lightest go-kart, weighing only 1,157 pounds, which allows this three-wheeler to reach 60 mph in 3.9 seconds and achieve a top speed of 130 mph. We are approaching supercar speeds, the only way to justify a steep base price of $65,999.
Ariel Atom 4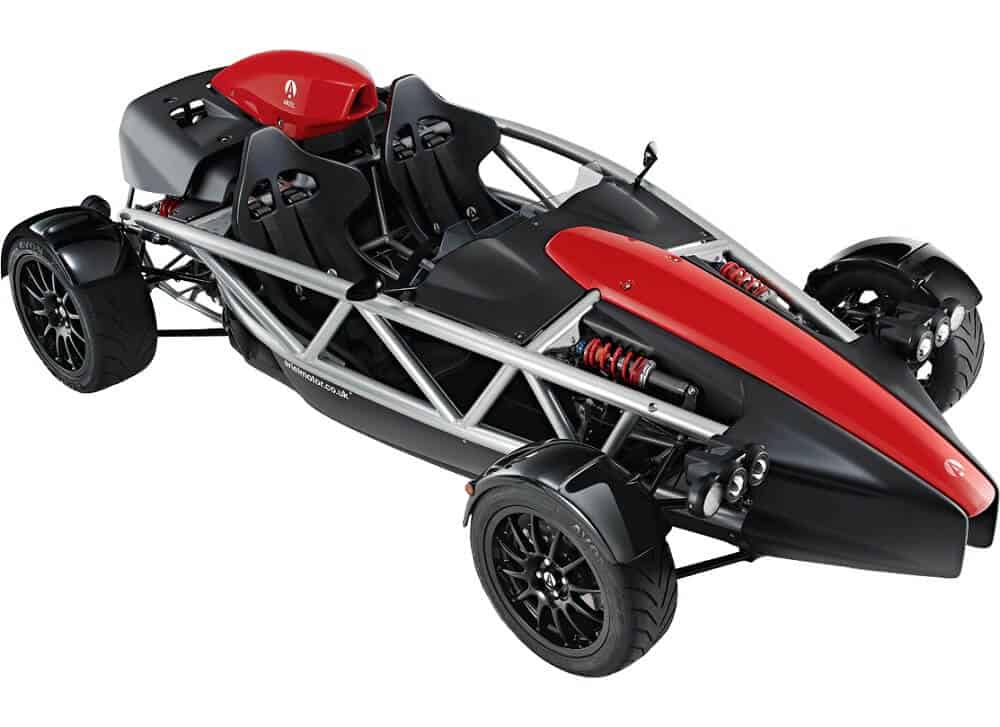 I think Ariel Atom 4 takes the cake regarding the value and fun factor. Ariel Atom 4 is a genuine legal go-kart that would be considered a hypercar if it weren't for its shape.
Why do I say that?
Well, Ariel Atom 4 only needs 2.8 seconds to get up to 60 mph from a standstill. Now, this is not the fastest go-kart on the list by any means, but for the base price of $74,750, I don't think you can do better.  
Direct-injected, turbocharged Honda K20C 4Cyl i-VTEC engine produces 320 brake horsepower and 310 pounds-feet of torque. This engine will push this 1,312-pound go-kart up to 162 mph. Far more than the cars listed so far.
Drakan Spyder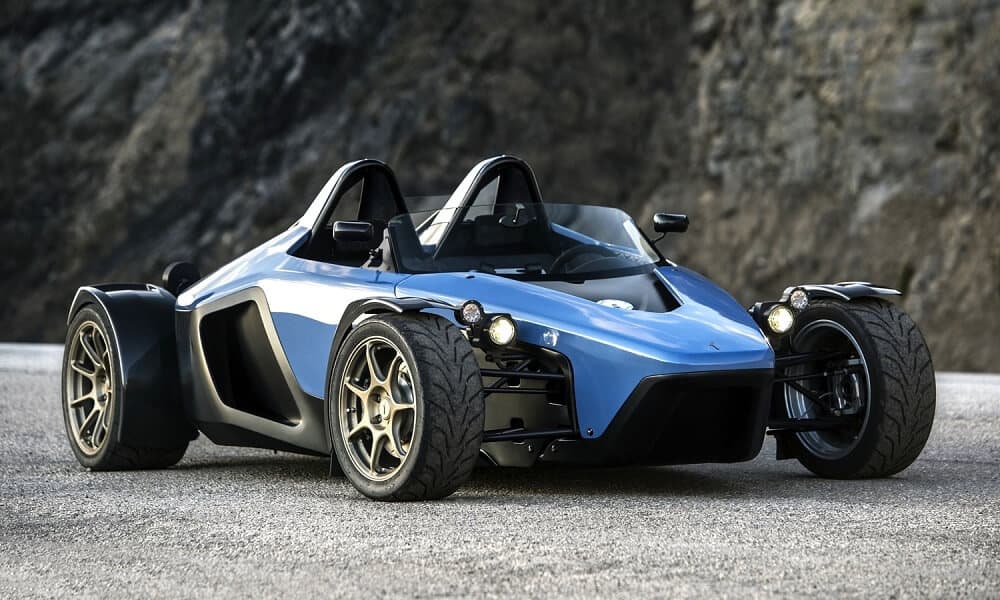 This American-built, formula-style car has the biggest engine on this list, 6.2L Chevrolet E-Rod LS3 naturally aspirated V8. This engine produces the most horsepower, 430 bhp, and torque, 424 lbs. The maximum speed you can expect to reach is 165 mph, and it will take 3.2 seconds to get from 0-60 mph.
The downside of the V8 engine is its weight. Even though Drakan Spyder has a lightweight fiberglass body, it still weighs 2,000 pounds. That is quite a bit more than most other cars on the list. That extra weight can also be because this car was built for comfort, not just speed, like most other cars on this list.
The price? As low as 100k. Not too bad for a comfortable and reliable sports car.
Ariel Atom 3RS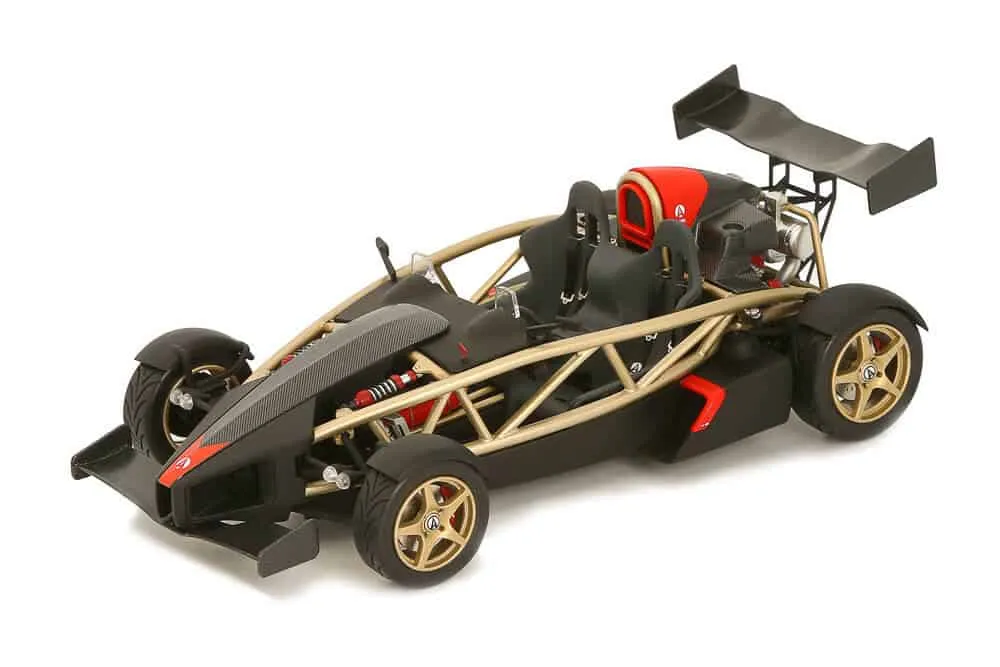 Remember I said that Ariel Atom 4 takes the cake for the value and fun factor? Well, Ariel Atom 3RS is as much fun, if not more, but it comes at the steeper price of $119,995. Not too shabby for a go-kart.
Ariel Atom 3RS is a bit less agile than its cheaper brother because it weighs 1,450 lbs but is far more powerful. Turbocharged 2.4L Honda 6-speed manual transmission engine produces 425 bhp and 365 lb-ft of torque, with a top speed of only 155 mph.
But who needs top speed when you can reach 60 mph in 2.5 seconds? You are almost sure to win a drag race against anyone, even motorcycles, making it the fastest street-legal go-kart on this list.
Elemental RP1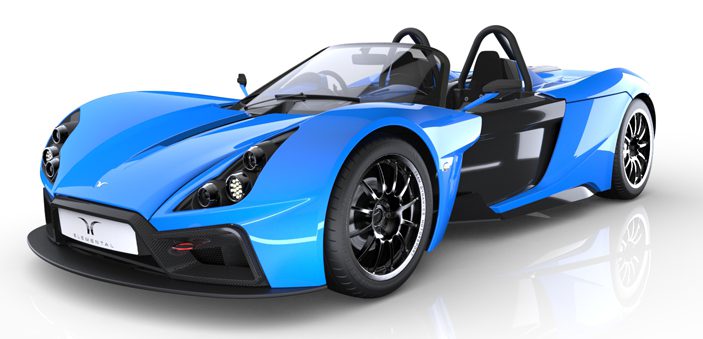 At first, I thought I would omit Elemental RP1 from the legal go-karts list because it looks more like a roadster, but I included it because it looks so cool. Unlike the "frog wheeler" above, the elemental RP1 backside screams Ferrari, my favorite car.
The performance resembles what you could expect if you bought a Ferrari. Zero to 60 in 2.7 seconds; 320 bhp and 325 lb-ft of torque; top speed of 170 mph. This 1995cc 16v 4-cyl turbocharged engine can do it all and deserves the fastest legal go-karts' second-place tie. 
Combined with only 1,311 lbs, the engine's power justifies the hefty price you can expect to pay. Elemental RP1 will cost you £98,700.00 (precisely 134,656.41 at the time of this writing). Yes, pounds. You can't buy it in the USA, unfortunately. If it only had a windshield.
KTM X-Bow GT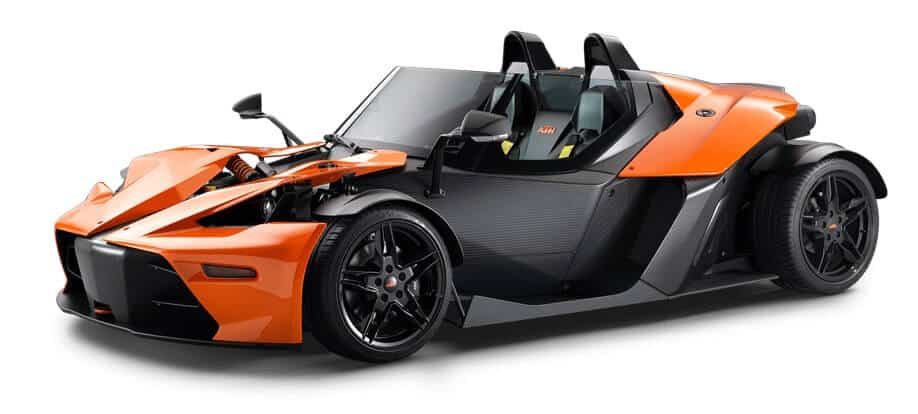 KTM X-Bow GT, pronounced KTM CrossBow GT is a two-seater sports car made in Austria. X-Box GT is the closest you will get to a bike on four wheels, and that is because KTM company is mainly focused on making motorcycles.
The way it is built separates X-Bow from almost anything on the market. The carbon fiber body is built in a way that exposes many of the vehicle's inner parts, including its engine and suspension. As a driver, you can see the suspension coils expanding and contracting when adjusting to bumps on the road.
This masterpiece of a go-kart weighs 1,867 lbs and will propel you to 60 mph in 4.1 seconds. Thanks to the Audi TFSI Inline-4, DOHC, 16v engine that produces 300 bhp and 420 lb-ft of torque, it does that. The top speed is only 144 mph. This makes KTM X-Bow GT not very fast compared to other cars on the list, but it will still cost you up to $139,000 if you go with the GT4 model.
Donkervoort D8 GTO-RS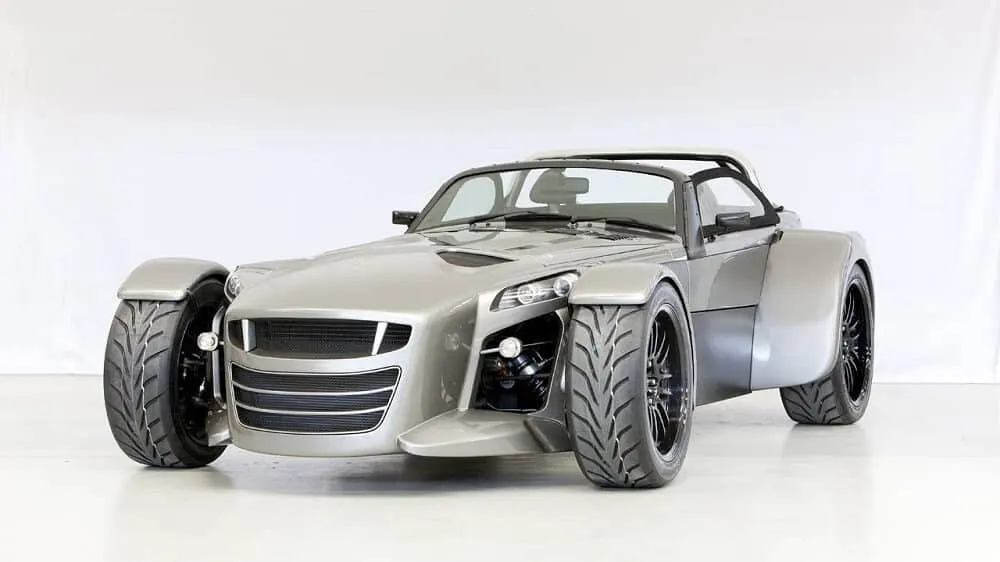 I dare you to pronounce Donkervoort D8 GTO-RS three times quickly; I can bet my house you won't be able to do it. The Dutch challenge you with their names something.
What is impressive about this car is the way it is built. Almost everything is made out of carbon fiber. The doors weigh about 2 pounds, the same goes for the two seats, and a waterproof fabric covers the back storage compartment. All these extra savings add up to a total car weight of about 1,532 lbs.
D8 GTO-RS, the Audi 2.5L R5 TFSI, Front, five cylinders inline engine pushes this car to a maximum speed of 174 mph. It produces 380 bhp with only 284 pounds of torque and gets you from 0-60 in 2.7 seconds. The original price of this car is € 151,173.00 ($181,993.40). It might be worth it if you consider only about 40 of these were built in 2016, and it might increase in price over time.
If you like a retro yet modern look, Donkervoort D8 GTO-RS might be your car. The design of this two-seater is going to turn heads.
BAC Mono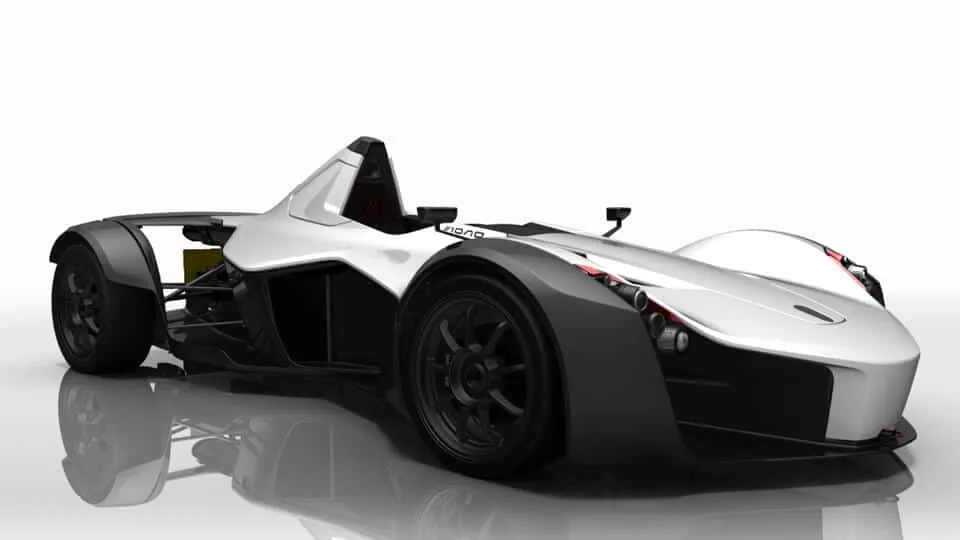 This insane single-seater is the closest you can get to owning an actual street-legal race car. It will propel you from 0-60 mph in just 2.7 seconds, offering incredible performance in a straight line. Mountune-sourced 2.3-liter, the four-cylinder engine puts out 332 bhp and 295 pounds of torque, with a top speed of 170 mph.
Because it is so low to the ground and designed, the cornering capabilities of BAC Mono are unmatched by everything you will encounter on the road. At 1,257 pounds, it is one of the lightest cars on the list and is incredibly enjoyable to drive. If I had $250,000, BAC Mono would be one of the go-karts I would consider buying.
Among many positives, including a Formula 1-inspired cockpit, suspension, removable steering wheel, and a custom seat, BAC Mono has one negative aspect that bothers me. It is deafening. Yes, we all love the sound of a screaming engine, but not to the point of losing our hearing. Earplugs are recommended with BAC Mono.
There you have it, guys; these are the craziest street-legal cars, in my opinion. Some of them are affordable, and some of them are not so much. If you can't buy one, maybe you can go a different route and legalize your go-kart street.