The different classes of kart racing might be a little confusing due to the nuances of each division. Go-karting is one of the most exhilarating sports that has been around for some decades,
However, to participate in the fun that karting offers, you have to know the class that fits your age and skill. This article will give you a breakdown of the different go-kart racing classes available. So, let's get right to discussing the go-kart classes. 
Kid kart or Baby kart racing class
Cadet racing class
Junior kart racing class
125cc TaG karting class
Shifter 125cc karting class
Lo206 (a fast-rising class in the U.S)
Master karting class
250cc Superkart racing class
The Different Go-Kart Racing Classes Available
The first thing you should know about go-kart racing classes is that they are split by age and engine brand—the reason is to level the playing field and create a fair chance for all drivers. 
Also, note that each class is split into divisions depending on the driver's level of experience. Some local karting clubs may do this to further even the playing field.
Kid Kart or Baby Kart Racing Class
This class is where the youngest drivers (usually between ages 5 and 7) kick off their karting journey. A place where they start to learn about the rudiments of go-karting. A restricted 50cc 2-stroke engine powers the kid racing kart. 
The engine's restriction limits the top speed to about 30 mph since safety is of great priority. Some of the engines found in this class include:
Comer C51 series
Honda GX35 or GXH50 series
Rotax
The class's main aim is not to win championships or points but for kids to have fun.  To further ensure safety in this racing class, the throttle stop on the kids' karts are adjustable. Most classes also specify the engine weight to be used in each category.
Cadet Racing Class
This TaG (Touch and Go) category runs a 60cc 2-stroke engine for kids between ages 7 and 12. It is considered the next appropriate class for kid drivers who may have improved a little at karting. This class is similar to the kids racing class but is further subdivided into two groups.
Micro (ages 7 to 9)
Mini (ages 9 – 12)
The cadet racing class allows all drivers to run the cadet sized chassis explicitly made for it. In this class, the most common engine brands you will find are the IAME and RoK engines.  The cadet class's most incredible feature is that the engine manufacturers have also gone a step further with naming their engines. 
The manufacturers have named the engines for this class to correspond with each subclass (the Micro and Mini). And they are:
IAME Micro and Mini Swift
RoK Micro and Mini Vortex
These engines can run up to 50 mph and 60 mph, respectively. To further level the playing field, drivers are divided into "beginner, intermediate and advanced "categories based on their experience. 
Junior Kart Racing Class
The junior class offers so much fun and adventure for drivers between the ages of 12 and 15. This serves as the gap class between classes with lower and higher displacement engines. It is also referred to as the 100cc TaG (Touch and Go) kart racing class. 
This is due to the characteristic 100cc 2-stroke engine used in this class. The junior category can also serve as the entry-level for adult drivers who are just getting into karting. In terms of expense, this class will keep you on a low budget and high on fun. The engines that split this class are:
IAME KA100
Yamaha KT100
Master X100AC
Lo206 Karting Class
This is a fast-rising class in the U.S because it is very competitive. It uses a 4-stroke Briggs and Stratton engine for both the junior and the cadet age group alike. The Lo206 engine can run up 60 to 70 mph. This has different categories, as well:
LO206 Junior 
LO206 Senior
LO206 Masters
125cc Tag Karting Class
This class also covers drivers between ages 12 and 15 and allows for adults above 15 years. It is the most competitive of all the classes, and it offers so much fun to drivers with varying experience levels. This class runs the 125cc 2-stroke engine, and speeds can hit up to70 and 80 mph. 
The 125cc engine is one of the most popular engines you will find in major karting classes. This class is also divided into
The junior category uses a restricted exhaust to differentiate the two classes, while the senior category does not. The engine types found in this class are
Some local karting clubs can go further to split each of these subclasses into the "Beginners, Intermediate, and advanced categories," based on the driver's experience level. 
This is done to create a fair environment for drivers, even with the same engine brand.  They can run up to speeds as high as 70 and 80 mph.
Shifter 125cc Karting Class
Speed is considered a unique attribute for this class. The 125cc shifter class is open to drivers above 15 years of age but not for beginners. The drivers in this class are usually in the intermediate or advanced level. This is because they can hit maximum speeds of 80 mph and go as high as 115 mph on sprint tracks. 
The engines that are common in this class are:
Honda CR125
IAME shifter
Rok Vortex Shifter
Rotax Max DD2 EVO
The relatively extreme speed this class offers is what provides the ultimate challenge that most drivers seek to experience while karting.
Masters Racing Class
The Masters class features drivers that are 32 years and above. The races are always very hilarious and fun to watch. The Masters' class uses a rare 150cc engine. The class is split by minimum weight variation into the:
Heavy divisions
Light divisions
Kids that do not fit into the weight categories in their class are allowed to race in the Master class.
250cc Superkart Racing Class
This class runs at much higher speeds than the other regular classes and requires experienced drivers. The Superkart is not as common as the other classes, but you are likely to find it at the championship level. 
Unlike the more common karts, Superkarts can reach up to 140mph. They are usually not divided by engine brand due to the very few available manufacturers in this class. However, the common engines found in this class are
The racing classes listed above are used in the United States. They are also similar to those used in other countries except for minor variations. They are very competitive and can be a stepping-stone into the professional racing world.
At the international level, kart racing is administered by CIK-FIA (Commission Internationale de Karting) and is divided into three broad classes. 
Direct-drive karts (OK and OKJ)
Gearbox karts (KZ and KZ2)
Superkarts
These classes bear some similarities to those at the national or regional levels.
Direct-Drive Karts
This class broadly consists of the OK (Original Kart) and OKJ (Original Kart Junior) categories. The OK is the top-level class and is open to drivers at age 14. Likewise, the OKJ category captures younger drivers between ages 12 and 14. 
Both categories use the no-gearbox 125 cc water-cooled two-stroke engines and are direct-drive (driven by motors). Each category has its technical specifications (such as rev limit, air boxes, carburetor, etc.)
Gearbox Karts
This racing class captures both the KZ1 and KZ2 categories. Unlike the direct-drive class, both categories use 125cc engines and are equipped with a 6-speed gearbox. The KZ1 and KZ2 are similar except for the differences in their chassis and breaks. The KZ2 class captures drivers at age 15 and older but must have a minimum weight of 175 kg (driver plus kart), while that of KZ1 is 170 kg.
Superkarts
Superkarts are quite different from regular karts in that they have full aerodynamic body kits. The chassis are usually longer than those of the sprint karts. The Superkart class exclusively uses a 2-stroke 250cc five or six-speed gearbox engine producing up to 100hp. This class is the fastest of all the categories. Drivers in this category can also implement sequential shifters to improve the kart's speed.
The few Superkart manufacturers in the United States are Top kart, CRG, and Margay. You will rarely find clubs that race the super karts in the United States.
The Best Racing Go-Karts
All karts have varying abilities for racing, but a few machines have proved their worth over time. Many of these karts have produced excellent, long-standing track records at all racing levels. Here we would have a look at the best racing go-karts:
Top-Kart Chassis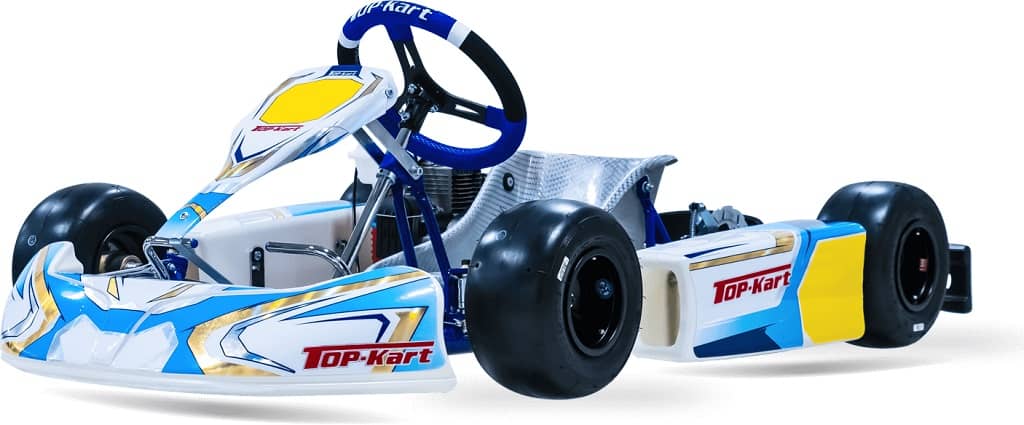 The Top-kart model is the best bet for kids racing in the kid karting class. It is easy to handle and ideal for kids who are just getting into karting. The Comer 50 cc engine is the perfect fit for the Top-kart chassis and comes with a pull-string starter and centrifugal clutch.
The kart has:
Sturdy build
Fascinating body graphics
Mechanical brake system with a rear disc
If you are bothered about safety, the top-kart has been carefully constructed to meet the industry's standard. Hence, it is designed with the kids' safety in mind. The Top-kart is quite expensive, but you will surely get the best value for your money. 
Birel ART Kart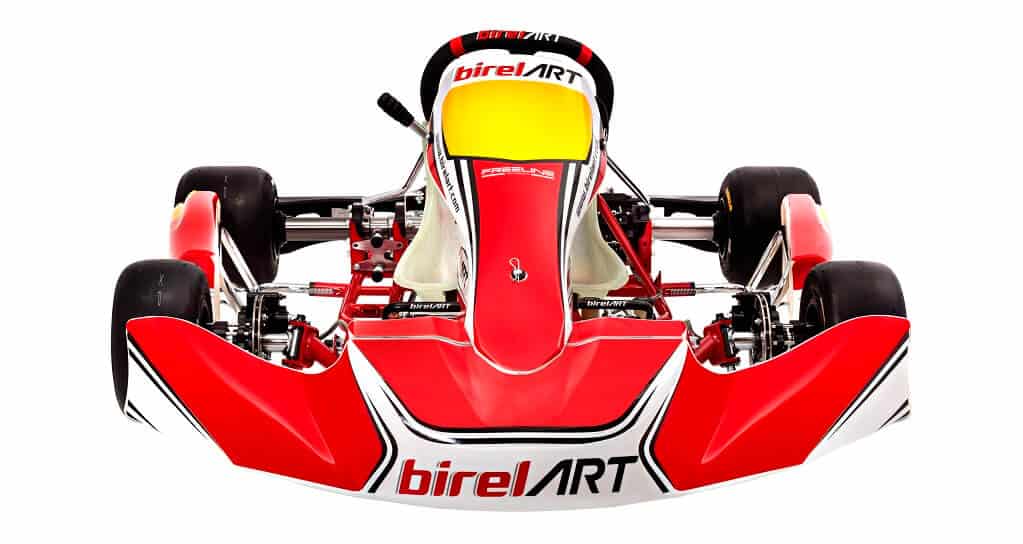 The Birel ART has a great chassis design that can accommodate either Micro or Mini engines. It has an outstanding pedigree with unbelievable track records. The body design is superb and eye-catching for kids. It has powerful hydraulic brakes that allow for maximum control of the kart.
It is a reliable machine and can either take the IAME or Rok engine. Birel ART has a low weight and is stable and reliable. The kart can withstand great impact due to its sturdy structure. The Birel ART is the best kart for cadet class.
Sodi Sigma RS3
The Sodi Sigma is one of the best for the 100 cc category due to its high performance and tough bodywork. It has a record for many championships and quality track performance. The chassis is designed to reduce tire wear and allows for easy adjustments if there is a need for one.
The braking system is lighter than most competitors in this class and will reduce the kart's drag. The impressive design and structure make it safe and easy to handle. Sodi has proven to be the best class for the junior class.
Tony Kart 401R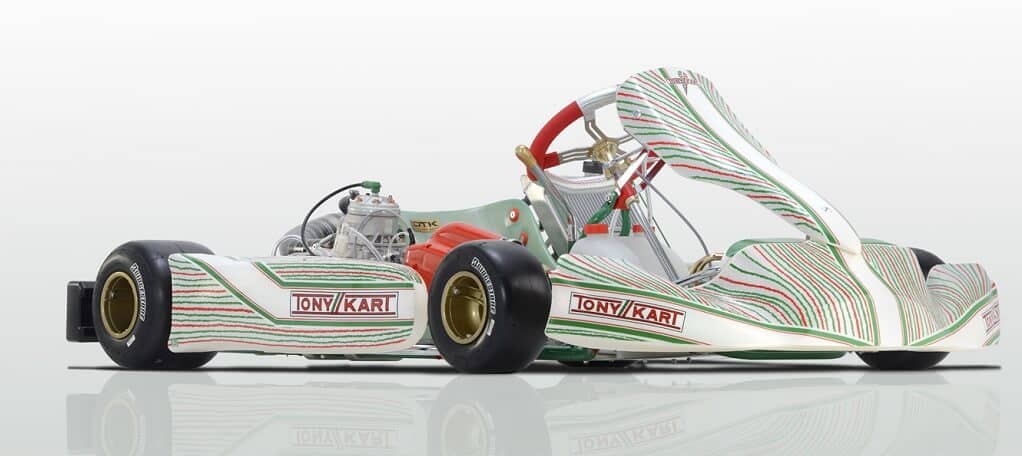 Tony Kart has an outstanding championships record, which has helped build a solid reputation in karting for many years. The high-grip steering wheel is built for comfort and easy handling. The coolant and braking system is awesome, which makes for less heat and increased durability.
The solid chassis is lightweight but makes for much downforce due to the kart's improved frontal part. The specified IAME X30 engine for this class fits well into the Tony kart 401R model with a top speed of about 80mph.
CRG Road Rebel Shifter Kart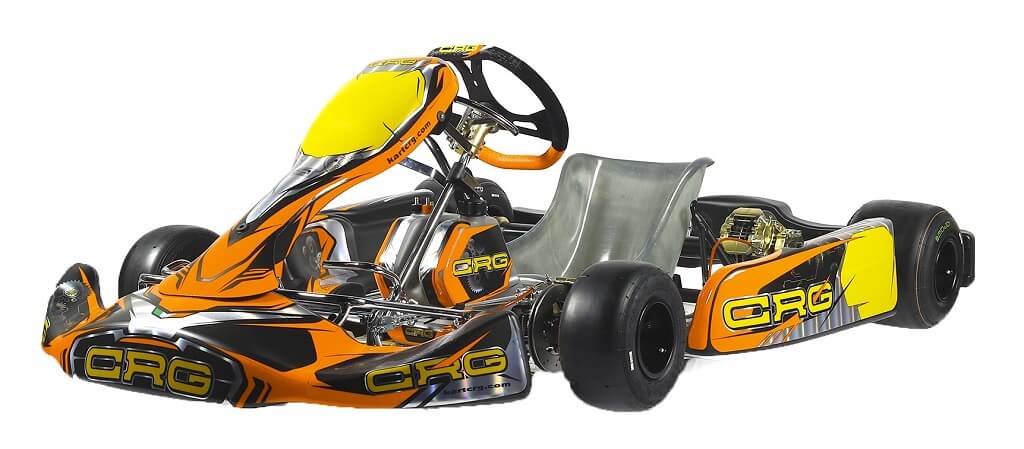 CRG is one of the highly respected companies in karting history. The CRG rebel shifter has a flexible chassis that can be easily adjusted. It has a sturdy plastic bodywork. The chassis will accommodate all the engine categories under that shifter class.
How to Get Into Go-Kart Racing?
Suppose you are wondering how to get into go karting and what first steps to take. Here is a piece of advice, always learn at a convenient pace, don't rush yourself. You have to properly understand the game's tricks before deciding to take a plunge into the world of kart racing.
Here are some beginner's tips to help you get started in go karting:
Get Yourself a Go-Kart
As a newbie in go-karting, purchasing a new kart is by far the best option since new karts come with intact components. This is better than making replacements on a second-hand kart, which can end up costing more. However, if you are going for a second-hand kart, make sure it is in good condition. 
Join a Local Go-Karting Team
By joining a local team, you can have easy access to lessons and build up your confidence and experience. It doesn't necessarily have to be a top team; an average local team is fine as well. Start by driving at the local clubs till you get comfortable with racing, and then you can join the national championships.
Be Willing to Take Go-Karting Lessons
Karting is fun, but it takes sheer skill and some courage to excel in kart racing. You must be ready to learn if you want to excel in this sport. To learn, you must:
Visit racing tracks
Watch pro drivers in action
Observe how they maneuver their ways on the circuit
You would sure learn some tricks and tidbits that will jumpstart your karting journey. Also, ask experienced racers questions about things you don't understand. 
Practice is Critical to Winning
Practicing is the most crucial aspect of your karting journey. As much fun and energy-filled as go-karting is, it requires a lot of hard work and dedication to get better. You only get better by practicing always.
Go to your local tracks and join them for some driving practice. If you don't own a go-kart yet, rent one from your local store. 
Since racing requires extreme mental alertness and agility to excel at it, you must learn to drive smoothly. In addition to your training, you should also learn to drive under varying weather conditions.
If you become great at kart racing, you can transition into higher racing classes. Many motorsport car racing champions started their careers with go-karting. Finally, be prepared to work hard to excel at races.
Prepare Your Racing Gear
While karting is fun, just like any other sport, it can be dangerous. The final step of your preparation is to get ready your safety gear. To get started, you will need the following racing gear:
Helmet
Karting suit (skid-resistant)
Rib protector (this is mandatory for kids)
Neck protection
Racing gloves
Racing shoes and any other protective gear you think might be helpful while racing.
Having spare parts and tools handy is a wise choice for drivers. Here is a list of tools you will need in karting;
Tire gauge
Fuel jug
Air compressor
Mechanic gloves
Chain lube
First-aid Kit
At What Age Can You Start Go-Kart Racing?
In the U.S, kids are allowed to participate in the entry-level kart racing class starting at age 5. In Australia, kids can participate in karting at an early of 6. The entry-level class in the U.K is the Bambino class, which allows kids of ages 6 to 8.
As for adults, they can participate in go-karting at any age. Adults can also find an appropriate class for themselves based on their experience. Generally, the junior class is an ideal entry-level class for beginner adults. 
How Much Does it Cost to Buy a Go-Kart?
An adult racing go-kart will cost, on average, between $3000 and $5000, while kids and youths racing karts cost about $2000 to $3000. Several factors influence the price of a go-kart: 
The material of the go-kart
The engine of the go-kart
Go-kart size
Number of parts on a go-kart
Go-Kart Material Matters
The kind of material used for a go-kart will influence the price. Lightweight materials used for high-end racing go-karts are costly. Thus, making high-end go karts more expensive than the regular ones. 
The Engine of the Go-Kart
The engine quality and brand will have a massive impact on the go kart's price. A powerful and higher displacement engine will cost more than a low displacement engine. 
The Go-Kart Size
The size of the go-kart is also a significant determinant of price. Larger karts will cost more than their smaller equivalents since they require more materials to build them. The type of go-kart influences the price. Some factors include:
Whether electric
Pedal
Racing or off-road
The Go-Kart Parts
The number of parts will also affect the price of a go-kart price. The more equipped a go-kart is, the higher its price. A go-kart with more features such as brake disc, gearbox, etc., will cost more than those with fewer features. 
What Type of Go-Kart Should I Buy?
When planning to purchase a go-kart, it is going to come down to personal preference. To determine the right go-kart for you, you have to consider:
Your karting needs
How much you are willing to spend
Your level of experience
Your physique 
The go-kart engine
Your Karting Needs
Here you will have to decide whether you want to race for fun or compete at the championship level. Figure out the racing format you want to go into: 
The format you choose is going to determine what type of kart to buy.
You will need a fast kart for sprint racing because speed is the essential feature of this format. You don't need a big engine with more horsepower to race this format because it will add more drag while racing. You will need a lightweight kart that will make for greater speed. Shifter karts with a 125 cc engine are usually the best for sprint racing.
When racing an oval circuit, you will have to make more turns. A kart with an offset chassis is the best option since they were specially developed for this format.  You sure need to be able to handle the downforce and turnings precisely. In an enduro race, you need a consistent, reliable, and stable go-kart to win.
How Much You are Willing to Spend
Your budget is another factor to consider when purchasing a go-kart. To go for a high-end kart, you must think about the maintenance cost. You have to take into consideration how much it will take to replace a faulty part. All these factors should be considered when purchasing a go-kart. 
However, there are go-karts under $1000 that you can find these days to save you some money. If you are karting just for fun, an average kart is right for you. 
Your Level of Experience
Your experience level will determine what racing class you will participate in, hence the kind of kart to purchase. Typically, drivers are grouped into several classes based on age and experience level. 
Shifter and Rotax classes run at the highest speeds and require a lot of experience before you can participate. However, the TaG and Lo206 classes are relatively fairer and ideal for drivers with varying experience levels. In essence, you should consider getting a kart that you can easily handle.
Your Physique Matters
Your physique is going to inform your purchase decision. Consider buying a kart that will give you comfort while racing. Usually, taller drivers produce more drag while racing; being a lightweight driver means that your straight-line speed will be greater than heavier drivers. 
The heavier drivers will, however, provide more downforce when they corner. If you are tall, you should consider a slightly heavier frame to give you balance all through the race, and the opposite holds for heavier drivers.
The Go-Kart Engine
Since each racing class has a specified engine type, the racing class you want to participate in will also determine what kind of kart to buy. You will need to buy a 100 cc kart if you will be racing in the 125 cc class.
How Fast is a Go-Kart?
The average top out speed for most go-karts is around 40 to 50mph. However, it depends on the class and format you are racing. 
A free 50 cc engine will attain speeds up to 40 or 50mph, while a 60 cc engine can hit up to a top speed of about 60mph. The 100cc will reach a maximum speed of about 70mph, while the popular 125 cc engine will top out at about 70 or 80mph.
The 125 cc shifter engine can reach a maximum speed of 90 mph. Superkarts are the fastest and can reach speeds exceeding 100 mph on a sprint track.
Is Go-Karting Dangerous?
Kart racing is an exhilarating sport, and its safety has been queried time and again. Karting is a safe sport, especially with the recent improvements on both the karts and track designs. However, like any other motorsport, it is possible to sustain injuries such as fractures, whiplash, etc.
It is better to be aware of the potential risks and protect yourself before racing. Some of these injuries are avoidable if you take the right steps, such as wearing your safety gear. Racing tracks also ensure that the racing environment is safe. 
However, race to enjoy the moments; you feel more confident at races when you gear up appropriately.
Conclusion
Now that you are aware of the different go-kart classes, you should get right into racing. Even though you may have found the appropriate class for you, you can improve your driving skill by practicing. 
Regardless of your age, there is a class for you.