As with any racing car, picking the right tires is one of the most crucial elements when trying to win a race.
There are a few critical guidelines to keep in mind when selecting go-kart tires for your race.
Tire Material
Go-kart tires are made from either magnesium or aluminum. They are both excellent tires with different pros and cons:
Aluminum tires – solid all-around tires that offer reasonable price and good performance.
Magnesium tires – lighter, stronger, and with greater grip than aluminum tires, but are more expensive.
Wheel Patterns and Hubs
These can be a bit complicated because the different brands use different scales but let's look at the example to understand better how these wheel patterns work.
The Difference Between American and Metric Wheels
American or US – the three bolts are aligned evenly on an imagined circle 2.5″ in diameter.
A=2.125″, B=1.75″ with 1/4″ or 5/16″ studs, known as three on a 2.5″ bolt circle.
Metric – the three bolts are aligned evenly on an imagined circle 58 mm in diameter.
A=50 mm (2″), B= 40 mm (1.5″) with 8 mm studs, known as 3/58 pattern.
CRG Front – the three bolts are aligned evenly on an imagined circle 67 mm in diameter.
A=60mm (2 3/8″), B=55 mm (2 3/16″) with 8 mm studs, known as 3/67 pattern.
Tire Size
Tire size can vary depending on the type of racing you are doing. Generally, though, go-kart racing wheels are usually between 5″ and 6″ in diameter.
Typically, rear tires are a bit wider than the front tires, but again, that depends on the racing type.
How to Read the Tire Size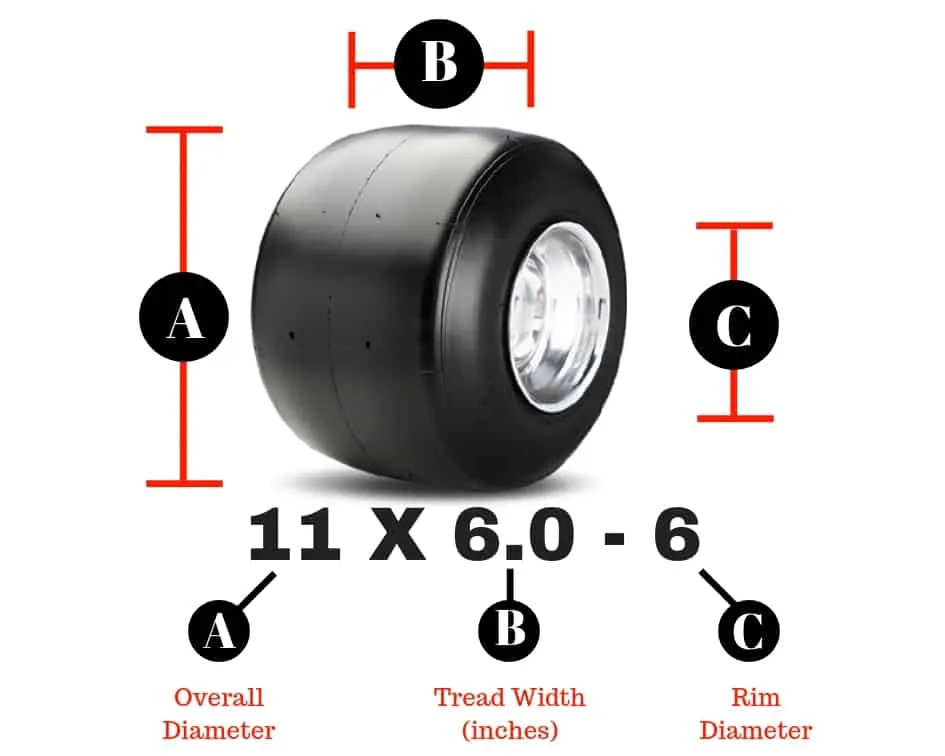 On the side of the go-kart tire, you will see a set of numbers that represent the tire size. In the following example, we will use tire size 11 x 6.0 – 6.
The first number, in this case, #11, represents the height or the overall diameter of the tire. The most common height of the go-kart tires is between 10 and 12 inches.
The second number is the tire width. Now you might be wondering why the second number has a decimal point? The reason why is that go-kart tires come in fractional sizes. So you may see 4.5 or 6.2 or any other combination within the limit assigned by the particular racing organization.
And the last number in this sequence is the rim diameter. Unlike the height and the width, where you may find that rear tires are larger than the front tires, the rim diameter is typically the same for both back and rear tires.
Where to Find the Right Size Go-Kart Tires?
If you are not sure which tire size is best for your go-kart, it's best to ask an expert. Your local racing store can give you all the info you need.
You also want to look at this go-kart tire size chart found here. It's a great source of the information for anyone looking for the right tire size.