If you're passionate about go-karting and looking to explore some of the best race tracks in Katy, Texas, you've come to the right place! From outdoor to indoor course layouts, Katy has a great selection of unique karting experiences that cater to everyone – whether you're an amateur or a professional racer.
At Andretti Indoor Karting Katy, Gulf Coast Karters & Katy Go-Karts, you can test your skills on some of the most exciting go-kart tracks. Here's why it's worth giving them a try:
With multi-level tracks, there are plenty of opportunities for even the most seasoned driver to show off their racing prowess.
The family-friendly atmosphere is perfect for introducing children to the thrill of go-karting.
You can get your adrenaline pumping with exhilarating races that will have you returning for more!
Don't miss this unforgettable opportunity to experience the freedom and excitement of go-karting! Take advantage of all that Katy has to offer and hit the track today!
Related Article: Best Go-Kart Tracks in Massachusetts
Andretti Indoor Karting
The Andretti Indoor Karting facility is the perfect destination for karting fanatics looking for an unforgettable experience. Here, you'll have a multi-level track to race on and other thrilling indoor activities to enjoy. You can even host corporate events and private functions at this venue, such as birthday parties or team-building sessions! Plus, they provide delicious meals and drinks in their restaurant, exclusive online promotions, and special events occasionally.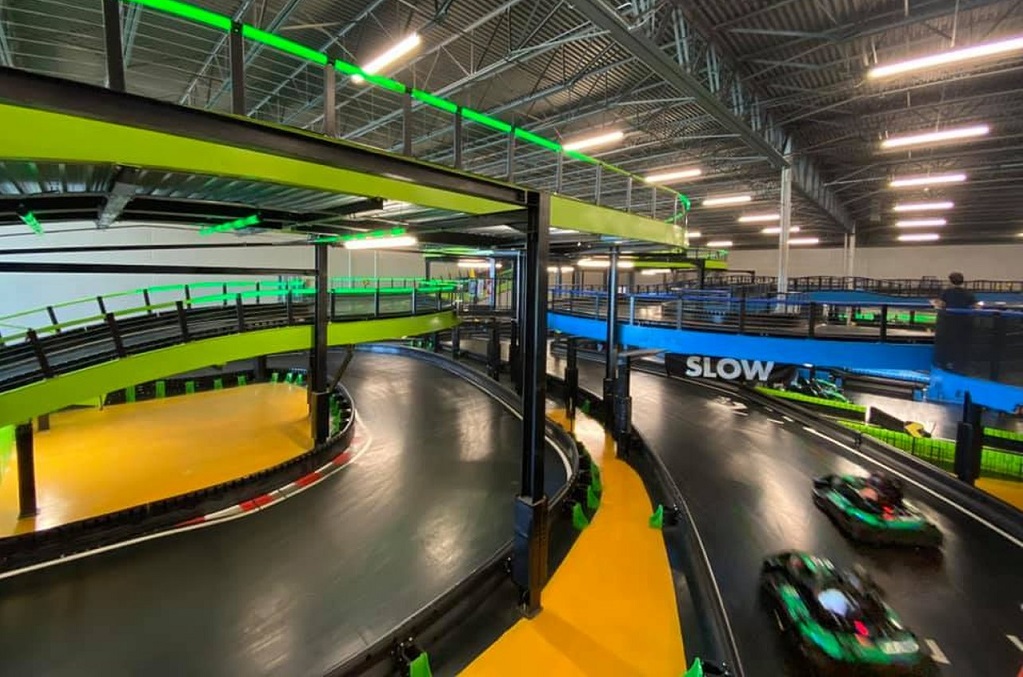 At Andretti Indoor Karting, you will find an exciting and challenging course with multiple levels and elevation changes. It boasts hairpin turns, chicanes, right-angle turns, and long straight sections – so it will keep your adrenaline going! Even though overtaking may be difficult due to its design, the family-friendly atmosphere makes it fun for everyone.
Their go-karts are top-notch and will make you feel like a pro driver. The Biz Kart and Ecovolt GP models offer high speed, smooth handling, and impressive safety features. And for the kids between 4 and 7 years old, there are the Mini Mario karts.
Satisfy your hunger cravings with their extensive food menu – from pizzas and French fries to mouth-watering burgers. Their selection of beverages includes everything from ice cream and cold drinks to alcoholic options. So come by and treat yourself to some good eats after a day of go-karting.
So what are you waiting for? Check out the Andretti Indoor Karting facility and take advantage of all the awesome offerings! Here's what you can expect:
A multi-level racetrack contains hairpin turns, chicanes, overpasses, and more.
High-performance go-karts that provide an amazing driving experience.
Delicious meals and beverages – including alcoholic options – to satisfy any craving.
| Details | Info |
| --- | --- |
| Location | Katy, TX |
| Type | Indoor |
| Track | Multi-Level Race Track |
| Karts | Biz Kart Ecovolt GT |
| Requirements | 54″ Tall, 18+ years old |
| Food | Restaurant |
| Hours & Contact | Mon-Thu: 11am-11pm, Fri: 10am-1am, Sat: 10am-1am, Sun: 10am-12am |
| Pricing | 1 Race (Member): $26, 1 Race (Non-Member): $28, 3 Races (Member): $65 |
| More Info | Visit Website |
Gulf Coast Kartway
Are you looking for an exciting go-karting experience? The Gulf Coast Kartway is the place to be! This large go-kart track is mainly used for championships and practice races. However, it does not offer any arrive-and-drive packages. You can bring your kart to participate in one of their competitions.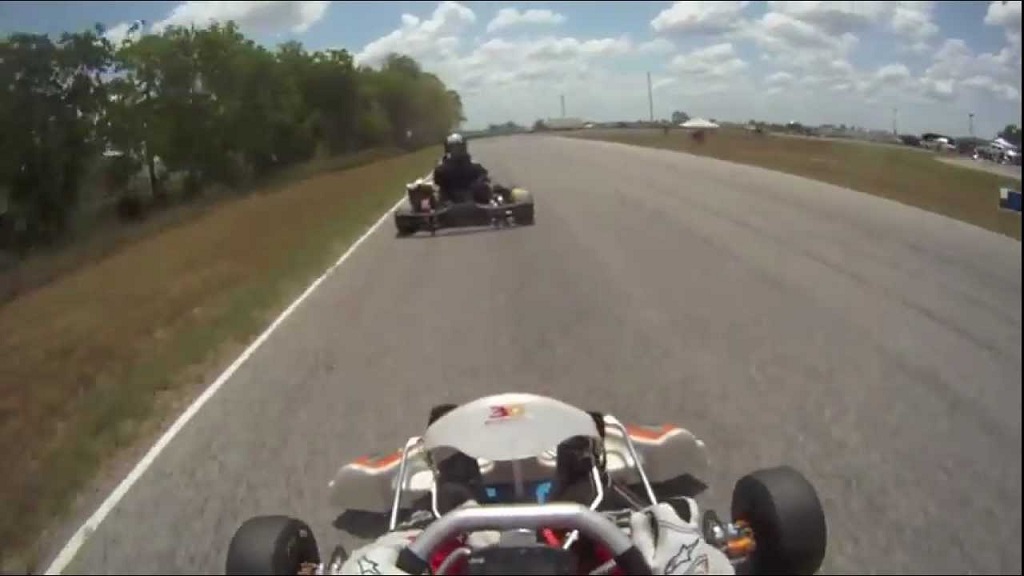 Besides championship racing, Gulf Coast Kartway also provides training sessions with strict rules and regulations that must be met before registration.
Gulf Coast Kartway features a thrilling 0.7-mile outdoor race track with corners, hairpins, chicanes, and straight sections. The asphalt surface offers maximum grip, while safety features like run-off areas and barriers keep participants safe. Whether you're a professional or a beginner, this track will challenge even the most experienced karters.
The different classes at Gulf Coast Kartway include junior, senior, and master KA100, IAME X30, and LO206 racing categories. Plus, Micro Swift and Mini Swift classes for kids and Pro Shifter races for seasoned racers. Just make sure you meet the entry requirements and register.
Unfortunately, Gulf Coast Kartways doesn't provide food and beverage options onsite. However, you can always bring refreshments along or explore the local area.
| Details | Info |
| --- | --- |
| Location | Katy, TX |
| Type | Outdoor |
| Track | Asphalt |
| Karts | Bring Your Own |
| Requirements | Class Dependent |
| Food | – |
| Hours & Contact | The track is open on practice and race days. |
| | Tel: 281-371-8378 |
| Pricing | Race Entry: $60 – $95, Practice: $0 – $50 |
| More Info | Visit Website |
Katy Go-Karts
Katy Go-Karts (known as Katy Inflatable) is a popular facility for kids and adults! They have an exciting go-kart track and many other activities like mini golf, batting cages, a Ferris wheel, and an arcade center. And if you want to hold a special event, they offer 4 large party tables and group packages for your convenience. With over 5 million visitors since opening in 1997, this destination has provided family fun for over two decades!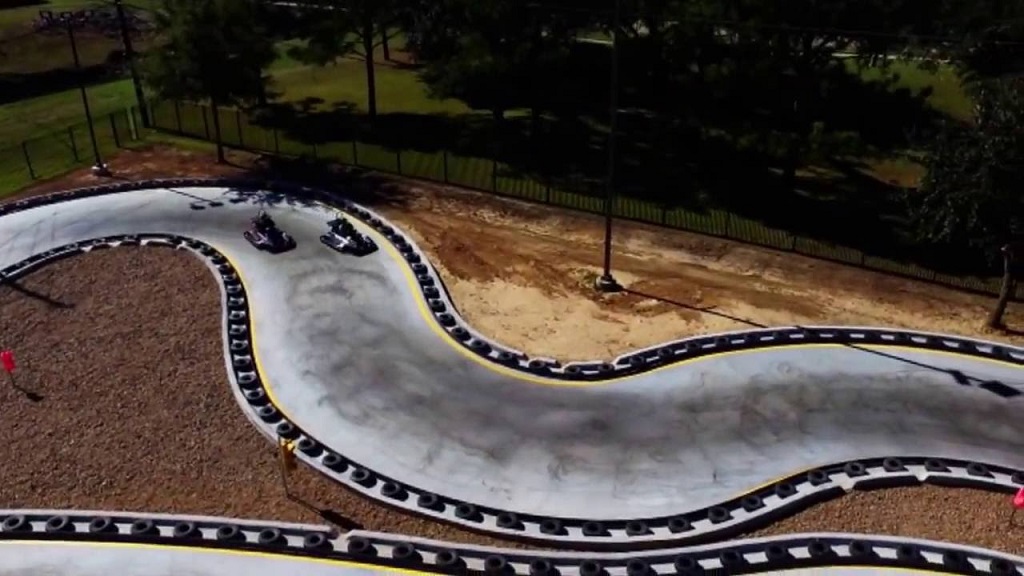 The outdoor race track at Katy Go-Karts features a concrete surface that offers a good grip while racing. It has a simple layout: an elongated oval shape with one hairpin turn, two chances, and two right-angle turns. You won't be able to reach top speed here, but it's still great fun – remember to check the weather forecast before heading out, as the race track may close during heavy rain.
This facility has some awesome gas-powered karts – Single and Two-Seater Shaller models made in the USA. Drivers must be at least 54′ tall, but passengers only need to be 36′. There's no need to wear helmets either, thanks to the seat belts, bumpers, and roll bars on all go-karts.
Unfortunately, Katy Go-Karts doesn't have a restaurant or cafe. Still, they allow people to book parties in their facility where guests can enjoy delicious pizzas and soft drinks (all catering provided). You'll also take advantage of the fun atmosphere and friendly staff. So if you're looking for a unique venue to celebrate a birthday or any other special occasion, look no further!
| Details | Info |
| --- | --- |
| Location | Katy, TX |
| Type | Outdoor |
| Track | Concrete Track |
| Karts | Single & Two-Seater Karts |
| Requirements | 54″ Tall |
| Food | – |
| Hours & Contact | Mon-Fri: 12pm-10pm, Sat: 10am-10pm, Sun: 12pm-10pm |
| | Tel: 281-574-3045 |
| Pricing | Single-Seater: $13.75, Two-Seater: $17.50 |
| More Info | Visit Website |
Related Article: Best Go-Kart Tracks in Melbourne, Australia
Conclusion
In conclusion, Katy, Texas, offers a variety of exciting go-karting experiences for all skill levels. Andretti Indoor Karting Katy provides an exhilarating multi-level track, high-performance karts, and delicious food and beverage options. Gulf Coast Kartway offers championship racing with a challenging outdoor track and different classes.
Katy Go-Karts offers a fun outdoor track with gas-powered karts, party packages, and additional activities for all ages. Whether you're an amateur or a professional racer, Katy has something for everyone. Don't miss the chance to experience the thrill of go-karting at one of these amazing facilities in Katy.