Go-karts are a great way to pass your time and can be great fun for the whole family! While you can find a vast selection of makes and models for sale today, every new go-kart buyer should complete their research to find the best go-kart possible for their needs. These vehicles can be expensive, and it is critical to do your research. 
Go-Karting Buyers Guide
Before buying a go-kart, you should decide:
What type of go-kart you need (pedal, electric, or gas)
What it will be primarily used for
The age of the potential drivers
Your overall budget (and if pre-owned is an option for you)
If you have a brand preference
While deciding on what type of kart, the brand, the safety features, and everything else can seem overwhelming. To help, we have created the ultimate buyers guide to aid you with this process. Whether you want something brand new or to purchase used, we have everything you need to know to get the go-kart you need. If you are considering a go-kart for you or your family, keep reading!
Types of Go-karts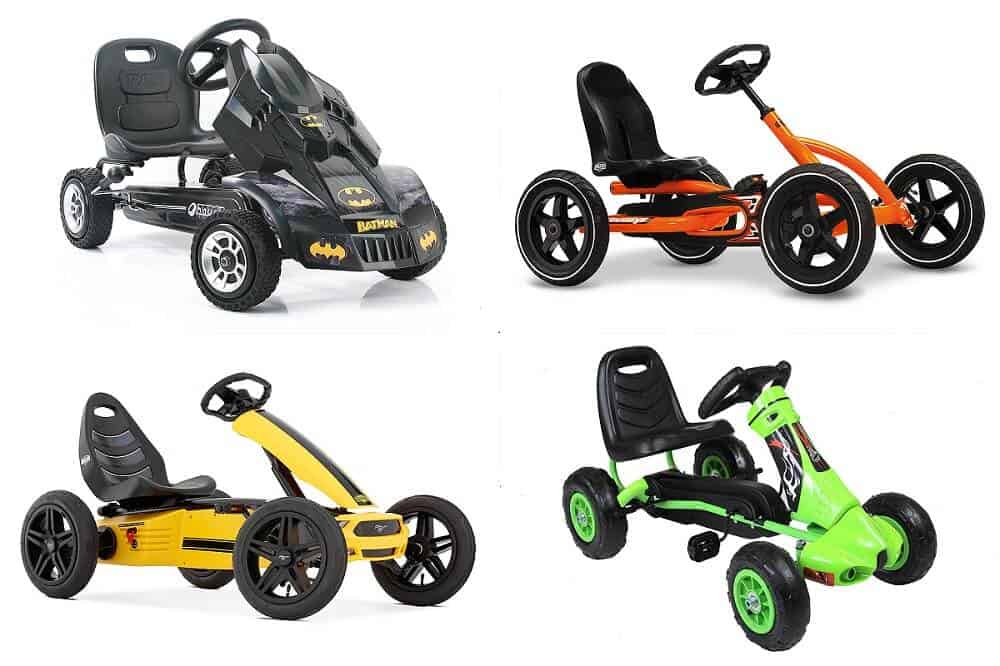 What you need from your go-kart is going to influence which type you buy. This relies heavily on the individual's age to purchase the go-kart and your overall purpose for buying the vehicle. Buying a kart for a child's entertainment and buying a go-kart to race in are two vastly different propositions, so you need to decide what you plan to do with it.
Here are the top types of go-karts available today.
Pedal Style Karts
This style of a go-kart is one we will not focus on much but is still worth mentioning. This is the most basic form of a go-kart and is designed for a younger rider. It's a good starting point for a young child to learn the basics of driving. Think like a bicycle, but with four wheels instead of two. 
They work great for young kids as they are:
Low to the ground
Easy to move
Very light and durable
You can choose a variety of peddling go-karts from single gear to multiple gear options. Karts with a gearset will go much faster, so they are best suited for older children. 
Overall, these are a great starter go-kart for young children. 
Gas Powered Go-karts
Gas-powered go-karts are the standard type of kart. They are best suited for older children and adults and are the dominant force in go-kart racing.
Here are the key features of gas-powered go-karts:
Some electric karts do rival gas-powered karts the fastest type of go-kart on the market, but they are fewer and far between.
This should be considered more massive and harder to move, especially for children, who may not be strong enough to get the kart out of a tight spot by hand.
Require more maintenance than a pedal or electric karts – Gas engines, by nature, have a lot of intricate moving parts that wear out. While go-kart engines are far more straightforward than a typical car engine, they still need some maintenance now and then, just like a lawnmower or other small gas-powered device.
You can find a vast selection of gas-powered go-karts available on the market today, with tons of shapes and sizes offered. These go-karts can have multiple seats, but you should always ensure there are proper seat belt options for each seat provided. 
One of the best pros of gas-powered go-karts is the ease of refueling gas is relatively cheap, plentiful, and powerful. Gas karts are best suited for older children, adult enthusiasts, and of course, anyone interested in racing go-karts.
Electric Powered Go-karts 
Electric powered go-karts are primarily made for children, but there are more adult-sized options on the market. Currently, they fill a niche of being a good midpoint between heavy-duty gas karts and the comparatively wimpy pedal karts.
Electric powered go-karts:
Are lighter than gas-powered karts. This makes it much easier to drag them out of tight spots on the track. It also opens up more storage options since you can slide the kart into tight parking spots much more quickly.
Are usually slower than gas-powered karts. However, some of the more expensive models can easily rival gas-powered karts. This is also a growing area of the market, especially with the onset of commercially viable electric cars, so expect to see some great new options crop up in the coming years.
It can be run for much cheaper, with less maintenance. This is both a pro and a con. While the lower maintenance costs are nice, it also means you can't just refill the tank and immediately get back on the track as a gas kart can—you have to wait for it to charge again. However, the potential of quick-swap batteries could mitigate this issue.
Depending on the brand and style of a go-kart that you purchase, they can hold a charge for around an hour or a bit less. Unfortunately, it can take up to 12 hours or longer to fully charge your go-kart, which is a bit time-consuming.
Electric go-karts are an excellent alternative for recreational users. Still, anyone interested in go-kart racing will probably want to choose a gas-powered kart until the electric market matures.
Racing Versus Recreational Go-karts 
A significant thing you must keep in mind when choosing your go-kart is what you will be using it for. 
There are three main reasons for purchasing a go-kart, and they all affect which type is best for you:
Children can have fun with most types of karts. Pedal karts are great for young children, with older children graduating to electric or gas karts.
Adults buying a go-kart for fun should look at a gas model first. Since they're the old kid on the block, it's much easier to find good, reasonably priced gas karts. However, if you have a larger budget, an electric kart can be a perfectly good little track monster to tear around in on the weekends.
Anyone interested in go-kart racing should be looking at upper-level gas-powered karts. At this point, gas-powered karts are the dominant type in any go-kart race. Also, there is something about the thrill of a big engine revving behind you that an electric kart can't match.
Racing go-karts are often faster, lower to the ground, and have extra fairings to help wind drag. These can also be used for fun but have unique specifications for racing needs. You can also find both street and dirt versions of a racing go-kart.
If you buy your go-kart for entertainment, you have a broader selection because speed is not as important. However, you do want to get a safe vehicle still.
Deciding Which Go-kart to Purchase 
Deciding which specific kart to purchase can be overwhelming, but let's break it down into basic steps. 
First, decide the purpose of the go-kart and keep the age of all the potential riders in mind. As mentioned, you will want to look for different karts depending on the driver's age and overall purpose. 
If you are purchasing your go-kart for entertainment only, you may not want to look at a racing kart. The same goes for if it is for a child; going to look at a sizeable gas-powered go-kart may not be a great choice. 
Buy Brand New or Go Second Hand? 
This is one of the biggest questions to ask yourself, and your budget will be a significant factor. Do you want to purchase your go-kart completely new or opt for a preowned vehicle? If you are serious about go-kart racing, going for a new go-kart is probably the best option, or you can even build your own if you want to tune it entirely to your tastes. 
However, if you buy it for entertainment and want to save some cash, there are several great pre-owned options out there. 
Start with the purpose, then keep these other tips in mind:
Choose a Good Chassis – No matter which go-kart you choose, ensure that the chassis is made from a reputable brand. This is essentially the bone of the go-kart, and every other element is added to the chassis. You want it to be sturdy, built to last, and safe to ride.
Get a Popular Brand – When you choose a well-known brand, it can be easier to find parts that fit your go-kart should something go wrong. Living near a dealership that sells part for your go-kart brand can make things even easier! 
Keep Age in Mind – If you are purchasing the go-kart for your child, always keep their age and ability level in mind. This can be challenging if your child has not driven a go-kart in the past, but it is still better to get a slower, safer go-kart than a faster one that they cannot control. 
Learn More About Go-kart Brands 
A big part of choosing a go-kart is knowing which brands are worth buying. While you do not need to buy the absolute best brand to get a quality go-kart, you want to buy one that will last. Educating yourself on what is made to last and will be suitable for your needs is critical. 
When choosing a new go-kart, keep these things in mind:
Is there a reputable dealership in your area? 
Can you easily find parts for the go-kart you are choosing? 
If looking at racing karts, keep performance in mind.
Is there a good resell value? 
What Are the Top Go-kart Brands?
If you are unfamiliar with go-karts and what to buy, it can be challenging to know where to start. You can always visit your local dealership or join some local go-karting groups to see what others think. However, doing your research can ensure that you are getting a go-kart that fits your personal needs. 
To help, we'll cover three of the top-rated go-kart brands on the market today.
Interceptor Go-karts 
This is a universally good go-karting brand that designs and manufactures quality off-road go-karts. They have both adult and kid options to choose from. You can choose from various Interceptor brand go-karts in several sizes, designs, and multiple UTV styles. 
Each of these go-karts comes with a robust and durable frame designed to hold up should you ever get in an accident in the go-kart. In addition to this durability, they come with several other safety features such as a bucket seat and quality safety harness. While these go-karts can go up to 31 mph, they offer speed-governing features should you want to restrict how fast your riders can go.
Critical features of Interceptor karts:
They offer an adjustable seat.
They use a pull start.
They provide minimum ground clearance – only 4 inches.
They have hydraulic disc brakes. 
Trailmaster Go-karts 
Most go-kart enthusiasts agree that Trailmaster is one of the top brands that are available on the market today. They design and manufacture some of the absolute best off-road go-karts you can purchase today, including two and four-seater options. Many families love this four-seater choice, as the whole family can go-kart together. 
Similarly to the previously mentioned brand, Trailmaster offers go-karts designed for both adults and children. This brand goes above and beyond when it comes to safety, providing a protective roll cage that many other brands do not have. They also have comfortable, quality seats and a perfect safety harness. 
Some other features of Trailmaster karts:
They have a durable, tubular steel frame that is built to last.
They have a ground clearance of 6.6 inches.
They have an extensive range of several functional designs. 
They have an adjustable steering wheel.
They feature headlights and a horn.
Kandi Go-karts 
This is the final brand we will mention, but several others out there may want to research. However, Kandi brand go-karts are some of the absolute best on the market today. Once again, they have both kid and adult style go-karts. 
You can find both electric and gas-powered go-karts from Kandi, with many of the children's karsts being battery-powered and adult karts being gas. Often, these electric go-karts are sold at a lower price point than their gas versions. These charged options travel at a slower speed, making them great if you are purchasing for your child. 
The gas-powered karts from Kandi are great for adults who want to go off-roading and are fully automatic. They also come with all of the safety features you would wish to, like a durable steel frame. Also, they have a roll cage, seat harness and allow you to govern your children's speed. 
Some other key features of Kandi karts:
Engine-powered Kandi karts can handle practically any rough terrain. 
They have pinion steering.
They have pneumatic, high-quality tires (as opposed to solid rubber or other options)
What to Look for When Buying a Used Racing Go-kart
Of course, one of the best ways to save money when it comes to your go-kart is to purchase a preowned option. Unfortunately, this does leave you a little more vulnerable to getting a kart that is not high quality or has some new issues. Luckily, you can often avoid buying a vehicle that is not quality by doing proper research and knowing what to look for.
Here are some of the things to check before you pull the trigger on buying a used go-kart.
Always Check the Frame
The frame of the go-kart that you are considering must be still durable and high quality. The frame is essentially the bones of the device, and if the bones are not holding up, the other parts of the kart simply do not matter.
Check for these critical issues in the frame:
Cracking – You will want to examine the frame for cracking and check for any signs of welding that may have taken place to repair a crack. If there are cracks that have not been repaired, this is a huge red flag, and you should consider a different kart. 
Ask if the Kart Has a Frame Guard – As you may know, go-karts do sit very low to the ground, and this can cause many karts to get scuffed on the bottom of the frame, which can weaken it. If the kart has a guard or has been driven with a guard, you can expect that the frame's bottom is still in decent condition.  
Check the Underside for Issues – Even if they said they'd used a guard, you should still check out the bottom of the frame. Extensive scraping or even flattening of the tube frame can reduce the safety and performance of the kart. While this may not completely deter you from the kart, it is something to keep in mind and can affect overall performance.
Ask About the Go-kart's History 
You can learn a lot about a go-kart based on how it was treated in the past. This can often be tricky if the seller does not keep good records or is not very open. However, many sellers are okay with offering you information about past owners, maintenance, or simple issues. 
If you are buying a racing go-kart, you may want to ask for even more information from the seller. 
Here are some questions to ask the seller before buying:
Past Wins and Losses for Racing Karts – Asking about this can simply show you how the kart performs and what to expect from it. 
Ask if There Were Any Major Issues – There has been a past issue maintained and repaired. This is not a significant sign of concern. However, if there is an ongoing issue, this can be a deal-breaker. 
Ask About Past Drivers – If a past driver was similar in height to you or the person you are buying the kart from, this could save you tons of time when it comes to adjusting the kart to fit your needs. 
Make Sure You Can Get Replacement Parts
We touched on this earlier when discussing go-kart brands, but it is vital that you can find replacement parts and routine care near your area. 
Also, having a shop near you that offers maintenance, parts, or even just advice on these karts can be great if you purchase a used kart that is not performing as you expected. 
Of course, in today's world, the internet makes this much more comfortable, and finding parts online can be very simple. You can also find expert advice online reasonably easily for most go-kart brands, but you will not get the in-person help you may need if there is not a specialist in your area. 
This may not be a massive deal-breaker for you, but it is something you should keep in mind. 
Research the Go-kart Model
You do want to ask about the specific model of go-kart you are considering purchasing. You want to choose from a quality brand like our previously mentioned and ensure you know as much about the kart as possible. Keeping in mind that go-karts do not last forever, and older models are often not the best choice. 
Some basics to keep in mind when it comes to the specific model of the kart are:
The Age – If you are looking at a used go-kart, it is best to avoid over five years old, especially if it has been used often in that time frame. A kart that is over five years old should be extremely inexpensive.
Ask About Axle Size – If the kart's age is not being openly discussed or unsure of the age, you can ask about the axle size. Older karts have an axle size of 25, 28, or 35 mm, which are not used in newer karts. 
Check the Brakes – If you see that the go-kart you are considering has mechanical brakes, it is probably an older model and may not be the best choice. Most modern karts have hydraulic brakes.
Research the Model Online – You must do some basic online research on a go-kart style that you are considering. A great thing about used karts is that you can often find plenty of reviews online. If you do not like what you see from these reviews, you might want to keep looking. 
Never Forget Your Safety Gear! 
Of course, one of the essential parts of buying a go-kart is ensuring you get the safety gear you need! Whether you are driving or just riding in a go-kart, everyone in the kart should have essential safety gear in place. These vehicles can go quickly, and they can wreck, even with the most experienced driver. 
Even the most basic go-kart rides will need to include some essential safety gear, such as:
Head Protection – Everyone who is riding in the go-kart should be wearing head protection in the form of a helmet. The helmet will need to fit correctly, with children should be wearing child-specific helmets. You can also purchase helmets with face guards for added protection. 
Proper Clothing – If those in the kart are not wearing adequate clothing, even a small wreck can lead to road rash, scrapes, bruises, and even cuts. While clothing will not overly protect you in a significant crash, it is always an excellent option to be fully clothed and wear sturdier clothing options. 
Always Wear Safety Harnesses – All reputable go-karts will have proper seat belts, or even safety harnesses included. If you are riding the go-kart, you should still be buckled in properly, even for a short time! Wearing a safety belt or harness is one of the best ways to protect yourself should a crash happen. 
Choosing a Quality Go-Kart – Made Simple! 
By this point, you should have a better understanding of which go-karts will fit your needs, some top brands, and tips to keep in mind. 
When you do your due diligence, finding a quality go-kart that fits your needs can be simple. Follow the steps laid out here, and you will soon be tearing around the track happily!