Go Karting is quickly becoming one of the world's most popular, family-friendly motorsports!
With Go-Karts suitable for kids as young as five and kids as old as 90 plus, go-karting is something fun that the whole family can enjoy.
With Go-Karts available for indoor and outdoor tracks, off-road and rocky terrain, and even sandy beaches, go-karting is quickly becoming a versatile and worldwide sensation.
Now I know what most of you are thinking, don't you have to spend an arm and a leg to get into one of the world's most popular up-and-coming motorsports? Stick around and find out how that is just not the case.
With our list of the best go-karts under $1000, we go through a large variety of Karts to suit all types of people, terrain, and adrenaline-packed fun.
We have not only found the best value and quality electric Karts, but we have also brought you a surprising selection of gas-powered Go-Karts. (we also have a specially powered Kart, but you will read more about that later!) all at a price range that won't break the bank!
We will go through each Kart and give you a rundown on what makes some Karts great and other Karts, well, almost great.
So, keep reading, and we can have you taking corners, ripping up the dunes, and breaking lap records, and the best part? Our guide could have you doing all this for less than $1000.
Related Article: The Top 10 Best Go-Kart Engines You Can Depend On!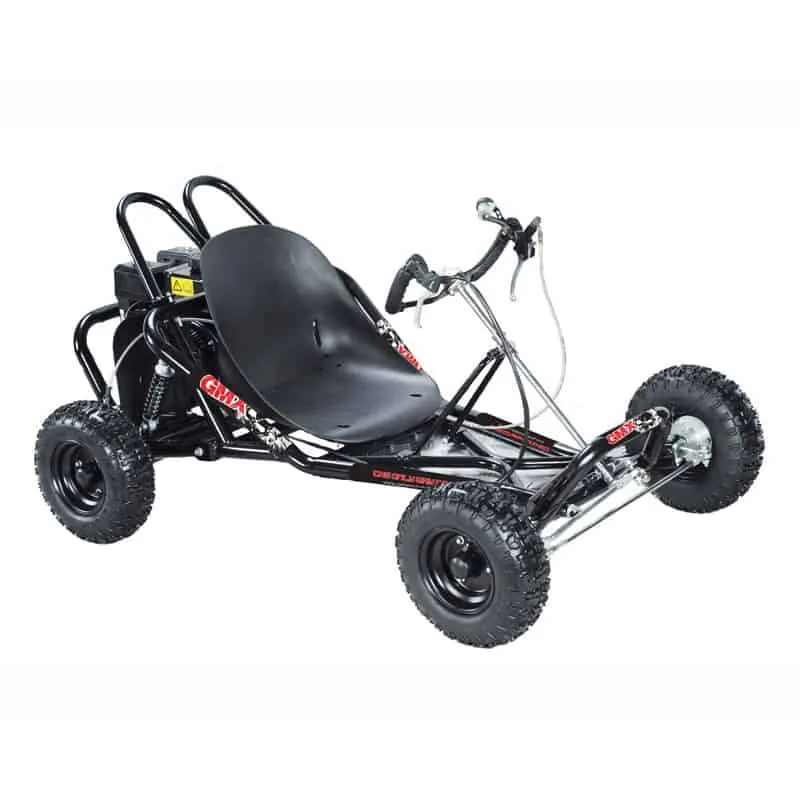 If you are looking for something to really get the hair on your head, standing to attention, then the GMX Drift is the Go-Kart for you! Perfect for tearing up dirt tracks and sand dunes, the GMX Drift comes out swinging with a 200cc, 4 stroke engine with air cooling.
With the power of reaching a maximum speed of 55km/H in perfect conditions. Coming in just under budget, it really gives value for money with the sheer power of a gas engine without going all in! Could this be your dream Kart?
The GMX Drift comes with Direct Axle Rear Wheel 2-wheel drive, giving it the traction to rip up dirt, sand, or gravel anywhere you bring it.
With an easy handling steering wheel mounted throttle, and a kill switch within touching distance, you can be in total control of the fun at all times!
This Karts also comes with a rear-wheel disc brake system, allowing you to go to a quick and controlled stop when you need to, they are also great for drifting!
This Kart only comes in black. If you are a black lover, you might adore this one. Stands 16.5cm off the ground, and has a beautiful front and back spring suspensions, allowing you to maintain vicious power slides, which is great.
That rear-wheel drive we mentioned earlier adds some serious traction allowing you to rip along off-road dirt tracks like a pro!
Pros
Flawless black design with red inlay makes for a beautiful design.
Kill switch and Disc brakes offer excellent control.
Cons
The small frame is not suitable for larger adults.
Related Article: Discover The 10 Best Off-Road Go-Karts For The Ultimate Adventure!
Go Kart Drift II 6.5 hp 196 cc BLUE with new EPA engine,
Coming in just a little cheaper than the previous entry, the Go-Kart Drift II is a very close competitor, with a mere 6cc difference in engine size.
The Drift II comes packed with a 6.5hp 196cc 4 stroke engine that can easily keep up. It also comes with a centrifugal clutch, uses unleaded petrol, and reaches speeds between 35-45 km/H.
The only down point we can find between the two options is the Drift II's lack of front suspension, however, the hydraulic-powered brakes, and the aesthetic butterfly steering wheel still make it a strong contender.
The Drift II also comes with a lever throttle and brake controls. Who would have thought this possible from a Go-Kart under $1000?
Another upside for Drift II is that it is available in a range of colors. Blue, black, red, and yellow, so you can pick the perfect color to cover in dirt and sand. If you like colors, this one is ideal for you with an extensive range of colors.
Drift II has a small frame, which also makes it ideal for kids, but don't be discouraged. It is perfect for Mom and Dad too!
With these 2 absolute beasts leading the gas-powered category, you may wonder why they even make them electric but do not worry; we will get to that!
Pros
Beautiful butterfly design wheel with easy to reach lever throttle.
Customizable in an extensive range of colors.
Cons
No front wheel suspension can cause you to really feel those bumps!
Razor Ground Force Drifter Fury Electric Go-Kart
Razor Ground Force Drifter Kart - White
Recommended to use only on flat surfaces | Race-tuned chassis and super-slick rear wheels for serious neighborhood drifting
Age range – 8+ | Weight limit – 140 lbs. | Battery – 24V (Two 12V), sealed lead acid, rechargeable | Battery life – Up to 40 minutes | Max speed – 12 mph | Some assembly required
The Ground Force Drifter Fury ups the ante with the added flash of its unique Spark Bar
Leading the Electric Go-Kart market is the Razor Ground Force. With a beautifully sleek design, rubber wheels, and a refillable spark bar, the Razor will make you the king of the streets.
Perfect for smooth ground and indoor tracks, the Razor's high torque, chain-driven motor can gain some serious traction!
Powered by two 12V batteries, the Razor can reach speeds up to 20 km/H, and with its hand-operated rear brake, some wicked power slides can be unleashed.
It also comes with a refillable spark bar I mentioned earlier, that leaves a spray of sparks to dazzle friends and family. The Razor's variable speed settings, coupled with its thumb trigger acceleration control, making it safe and controllable.
The Razor Ground Force is perfect for younger kids looking to get started in motorsports.
The lower speed makes maintaining a safe and controlled environment easier in comparison to more high-speed gas-powered Go-Karts yet keeping all the fun.
With a charge time of 12 hours, you get 40 minutes continuous use, so the included battery bag really comes in handy!
Pros
Great for a safe but fast experience
Suitable for kids 8+
Awesome spark bar for dazzling power slides.
Powder-coated steel frame and sleek design make it easy on the eye.
Cons
Not suitable for adults so you might need to consider this point if you are going to buy a go-kart for an adult.
Long charge time in comparison to run time, which is another big drawback.
MotoTec Sandman Go-Kart 49cc
The Molotec Sandman Kart really takes go-karting to a whole new level. Excellent for both on-road and off-road, it comes with a gorgeous buggy design with front and rear bumpers.
With 9-inch wheels and direct chain drive, the Molotec is a class of its own for a smooth ride even at top speeds. It also comes equipped with an automatic centrifugal clutch.
With a 49cc 2 stroke engine, you would expect it to show a much slower speed than our previous options. However, that direct chain drive we mentioned earlier allows the Kart to reach up to 45km/H! In favorable conditions, of course.
JFG's Racing's Molotec Sandman really makes a class of its now when compared to other gas-powered Karts. Unlike our first two options, it does not offer anything in the way of powerslides. However, its smooth and stable ride makes it one of the best out there.
The Sandman's stable and sturdy design makes it perfect for adult riders, too, so you can have fun with the whole family!
Pros
A very stable design allows for a very smooth drive.
Axle mounted disc brakes allow for control at high speeds.
Direct chain drive and high tensile frame allow speeds up to 45 km/H.
Cons
The smaller engine allows less traction for power sliding.
MotoTec Solar Electric Go-Kart 24V
As an honorable mention, we have Monotec again (the specially powered go-kart we promised you earlier), this time with the Solar Electric Kart.
Yes, a solar-powered go-kart. With a runtime of 2 hours, after a 12-hour solar charge, or 4-6 hours with help from the battery charger. The Solar Kart can reach speeds of up to 24 km/H.
With a simple design with aluminum fixings, solar panel, and 350-Watt DC battery, it is worth every penny!
Pros
Guilt-free go-karting, what is not to love.
Cons
Short runtime compared to long charge time.
Related Article: Best Street-Legal Go-Karts You Can Buy
Conclusion
So, there we have it, the best go-karts out there on the market, right now, for less than $1000.
With a range of gas, electric, and even solar-powered Karts, there really is an option for everybody out there to get involved in the next big power sport!
No matter if your heading cross country, skidding around the neighborhood, or out power sliding in the dunes, I hope we covered an extensive enough range so that you can find the best Go-Kart out there for $1000 or less.