Go-karts are small, four-wheeled vehicles, also known as shifter karts. Unlike most kinds of racing, go-karts are meant to drive both indoors and outdoors.  Go-karts have been both a popular hobby and a professional sport for over 50 years.
All over the world, there are a wide variety of different go-karting venues where people can enjoy racing go-karts both indoors and outdoors. 
Outdoor go-karting tracks provide racers with a greater opportunity to pick up higher speeds and pass up other racers with larger and wider tracks than indoor circuits. While outdoor tracks allow greater speed and more competitive racing, indoor tracks can be better suited for beginners who want a more casual go-karting experience. 
With so many different places to go-kart at, it can be hard to decide which venue would be the most enjoyable and comfortable. When comparing indoor versus outdoor go-karting, there are many factors to consider, but it truly comes down to the driver's preference. Neither indoor nor outdoor go-karting is superior to the other. 
Read on to learn all about go-karts and compare indoor vs. outdoor go-karting to determine which type of track is the right fit for you!
Indoor vs. Outdoor Go-Karting Experience
When trying to decide if you want to visit an indoor go-kart racetrack or an outdoor go-kart race track, there are multiple things to consider to help you determine which type of track would provide you with the optimal racing experience. 
Difference in Pricing
The price you will spend on go-kart racing will vary greatly depending on the venue you visit. Indoor tracks tend to be cheaper than outdoor tracks. 
Also, indoor go-kart tracks are much more common in the U.S. than outdoor tracks. Because of this, you will probably save money if you choose to go to an indoor track. 
Weather Conditions
One of the benefits of going to an indoor go-kart racing track is you will never have to worry about the weather affecting your drive. It won't matter if it's rainy, cold, windy, or snowy that day because, at an indoor track, you'll be driving in a climate-controlled environment. 
Indoor tracks enable drivers to race comfortably any day of the year.
One of the upsides for go-kart racing outside is warm, sunny weather. Many go-kart drivers say there's nothing better than racing around the track out on a nice, beautiful day. 
However, if you are a driver that doesn't care about bad weather and still wants to race your go-kart no matter what, you will need to ensure that you wear temperature-appropriate, waterproof clothing if it's rainy or cold so that you stay dry and warm while outside on the track.
On top of that, you will need to know how to drive on a rainy day. Learn how to go-kart in wet weather and separate yourself from the rest of the crowd.
Attire Needed to Race
No matter what type of go-kart racetrack you plan on visiting, whether it be an indoor or outdoor track, there are certain things you need to keep in mind when it comes to how you dress. 
Indoor or outdoor, you will want to wear comfy, appropriately fitting clothing, not too tight and not too loose. All go-kart racetrack venues require closed-toed, flat-heeled shoes and helmets. 
Many venues will provide shoes and helmets for a nominal fee if drivers don't bring appropriate racing ones. If drivers choose to bring their helmet, the venue employees will likely inspect it for safety measures. 
Employees at go-kart facilities have the right to deem helmets unfit for driving, and drivers will have to rent one from the facility if they still want to race.
It's a good idea to check with the particular go-kart racing facility you plan to attend before your visit to find out their specific dress requirement, as the regulations can sometimes vary from place to place. 
How to Drive Go-Karts Effectively Indoors and Outdoors
While racers driving go-karts on outdoor race tracks tend to go a bit faster than those reached in indoor racetracks, the methods used to drive a go-kart are the same. Here are a few tips for beginner go-kart drivers racing indoors or outdoors. 
Sit comfortably: Before you start driving, make sure you are comfortably positioned to have better control of the vehicle. 
Keep both hands on the wheel: Keep both hands on the wheel to ensure ultimate control of the go-kart. 
Practice using the accelerator: Practice getting a feel for how much you need to press the accelerator pedal to drive your go-kart. 
Practice using the brake: Go-kart brakes have a different feel than car brakes do. Make sure to test it first while driving at lower speeds to feel how hard to push the brake pedal when you need to stop or slow down. 
Don't brake too suddenly: Try to drive smoothly so you won't have to brake excessively. If you brake too much, you will lose driving momentum. 
Keep your distance: Avoid crashing into another driving by keeping an appropriate distance from your kart and others, especially if you are a new or inexperienced racer.
Driver Experience and Safety
Drivers' go-karting experiences will differ vastly based upon their go-kart driving experience level. A beginner driver will probably have different go-kart venue preferences than a more proficient or expert go-kart driver would. 
Listed below are some indoor and outdoor go-kart safety tips to be aware of.
Indoor Go-Karting Safety
Indoor tracks are generally safer.
Tracks are smoothly paved.
Indoor karts usually offer additional safety features not found in outdoor karts.
Indoor karts keep the driver more covered than outdoor karts do
Indoor tracks tend to be smaller, so drivers' speed is much slower than that of drivers on outdoor tracks.
Climate-controlled
Indoor tracks don't allow for passing other drivers as much as outdoor tracks do.
Outdoor Go-Karting Safety
Outdoor tracks are usually wider and longer, making it easier to pass other drivers.
Since outdoor tracks have more room, drivers are frequently found maneuvering and overtaking other drivers.
Outdoor tracks are susceptible to nasty/cold weather.
Racers tend to drive much faster on outdoor tracks than they do on indoor tracks.
When you look at all the variables, outdoor go-kart racing tends to be a more dangerous activity than indoor go-kart racing. The bigger space and faster speeds combined allow drivers the opportunity to pass up fellow racers at high speeds quickly. 
Because of how intense outdoor racing can get, it tends to be more geared towards semi-professional or professional drivers. 
The more time you've practiced driving go-karts, the better suited the driver will be for an outdoor go-kart track. Go-kart championships are typically held on outdoor tracks. 
However, if beginners think they are up for the challenge, these tracks are beneficial for improving driving technique if they want to learn to compete professionally. 
Go-Kart Rules and Restrictions
If you are a first-time go-kart driver or going with a family full of young kids, the smaller length and slower speeds of an indoor go-kart racing track may be more suitable for you. However, just because a track indoors does not mean you will have any less fun. 
Thousands of people across the country visit indoor go-kart racing tracks every day and have a fantastic time.
For families who want to take their children go-karting, an important thing to first consider is children's driving restrictions. Each place differs in their rules, so below are a few common restrictions:
As you can determine from the chart above, every go-kart venue varies on age, weight, and height requirements.
Another vital thing to note: More often than not, if a minor is going go-kart racing, even if they meet the age, height, and weight restrictions, an adult or guardian over the age of 18 needs to be present in case of emergency. 
If you are considering taking children go-kart racing, no matter if the track is indoors or outdoors, it's a good idea to research that particular facility's driving rules and regulations before going.
History of Go-Karting
Racecar builder Art Ingels first invented Go-Karting. In 1956, Ingels moved away from his regular work of building race cars and, during this time, wound up creating the world's first go-kart. Ingel's first go-kart was made of nothing but scrap metal and a two-stroke engine and was mimicked after the race cars he was so familiar with making. 
Art Ingels presented his new kart invention at the Pomona Raceway while hundreds of enthusiastic people looked on with awe at this new creation. 
Outdoor Go-Kart Racing History 
When go-karting was first invented, there were no indoor tracks for drivers to race on, so all go-karting was done outdoors for at least the first several years. 
First Outdoor Go-Kart Races
After the initial Pomona Raceway kart testing, people were eager to try karting for themselves. They began building their own karts and holding small races in store parking lots due to the wide-open space and flat pavement available. 
The first big go-kart race was held in a parking lot back in the 1950s. Not just any parking lot, but the Rose Bowl parking lot in Pasadena, California. 
Go-Kart Manufacturing History
Once people saw how much fun go-kart racers had at the Rose Bowl racing event, the demand for go-karts began to soar. However, many people did not know how to build their karts or upkeep maintenance on them. 
With the demand so high, the first-ever go-kart franchise was created, named the go-kart Manufacturing Co., and was stationed out of Morovia, California. 
Important Events in Go-Kart Manufacturing History:
The Go-Kart got its name from Lynn Wineland, a former Hot Rod Magazine editor. The first production go-kart was thus named the go-kart 400 racer and sold for $129.50.
After the first franchised go-kart was sold, more companies began creating their go-kart brands. One of the biggest brands was Ingels and Borelli Kart Company, known for its high-quality, hand-crafted go-karts.
One of the first go-karts ever sold was the Caretta. The cost for the new go-kart Caretta model was 5 completely assembled. Buyers could also purchase an instructions manual, set of blueprints, and materials list for an additional $2.00. 
Once many go-karting companies began establishing themselves, the American Kart Manufacturer's Association was formed to ensure all go-karts were adequately assembled and safe for all go-kart drivers to use. 
Shortly after go-karting became a wide-spread hobby, the Go-Kart Club of America, now known as the International Karting Federation, was established to enforce rules and regulations that go-kart race drivers were expected to follow. 
Over the next few years, go-karting only increased in popularity. It moved from the state of California to an activity people enjoyed nation-wide and eventually world-wide. 
Indoor Go-Kart Racing History
Not much research has been documented about the first indoor go-kart facilities. Over the 1960s, as the popularity of go-karts continued to rise throughout the United States, a wide variety of different go-kart tracks began springing up all across the country. Many of these companies opened up indoor go-kart racing venues for riders to enjoy. 
Indoor go-karting tracks are often found in areas where tourism is a major industry or cities requiring more indoor activities. That doesn't mean you won't find indoor go-kart tracks in other areas, but these are the most common. 
Go-kart racing has come a long way since it was first invented in 1956. Instead of small races in store parking lots, now, there are hundreds of indoor and outdoor go-kart racing tracks all over the United States.
Best Indoor Go-Kart Tracks Around the U.S.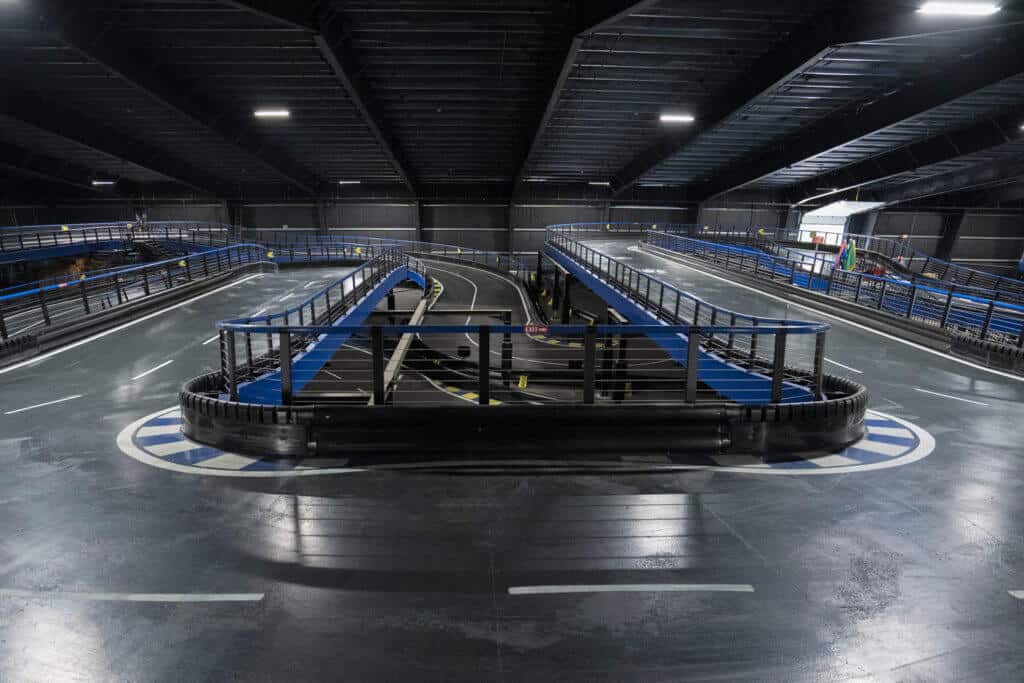 There are plenty of indoor go-kart tracks around the U.S. Here are some fan favorites from across the country.
SuperCharged Entertainment
Located in Wrentham, Massachusetts, SuperCharged Entertainment is known for its two indoor multi-level go-kart tracks filled with dips and turns. Overall the two tracks combined cover 80000 square feet of driving terrain. If I am not mistaken, this might be the largest indoor track in the world.
SuperCharged is a zero-emission climate-controlled venue making safety a priority. They have several different package deals to choose from, with a single race starting at $25. Racers must be at least 4 foot 10 to drive.
It is also my favorite indoor track. I am a frequent visitor since it's only about 40 minutes drive from my home.
Pastimes Indoor Karting
Fastimes Indoor Karting, located in Indianapolis, Indiana, is a 900ft bi-level indoor go-kart track that people from all over the country flock to. Adults can expect speeds up to 40 mph, while minors can drive in karts that go up to 30 mph. 
Pastimes are famous for their many large group event packages, including bachelor parties, work team building, and birthdays.
Kart 2 Kart
Kart 2 Kart is an indoor go-kart track that covers ⅕ mile of driving terrain and claims to be the fastest in the area. Located in Detroit, Michigan, Kart 2 Kart is for everyone, from experienced competitors to first-timers, league racers, and drop-ins; anyone is welcome. 
Kart 2 Kart has many great packages to choose from, including 2-3 race packages, 8-minute driving sessions, annual memberships, junior go-kart packages, birthday party specials, and corporate and team-building events.
K1 Speed
K1 Speed is an indoor go-kart racing track with multiple locations, including Fort Lauderdale, Miami. K1 Speed features two indoor tracks, and racers can reach speeds up to 45 mph. 
K1 Speed aims to offer novices and experts an authentic racing experience that can satisfy the most demanding driver's adrenaline needs. K1 Speed has excellent packages available for bachelor parties, birthday parties, and team-building events. 
Andretti Indoor Karting
Andretti Indoor Karting, located in Orlando, Florida, is home to the world's longest indoor go-kart racing track. 
Andretti also claims its tracks have the most elevation changes and banked turns than any other track in the country, making Andretti go-karts a thrilling ride for both new and experienced racers. 
In addition to the Orlando location, Andretti Indoor Karting also has go-kart racing facilities in Georgia and Texas. 
Xtreme Zone 
Xtreme Zone, formerly known as Mid-Atlantic Grand Prix, is an indoor go-kart track located in Delaware. Xtreme Zone provides a high-endurance racing experience on a quarter-mile track with nine turns. 
Xtreme Zone provides multiple karting experiences, from one, two, and three race packages to birthday parties and group events that come with a party room!
Best Outdoor Go-Kart Tracks Around the U.S.
Harsh weather conditions can wreak havoc on race tracks, so outdoor go-kart tracks are usually in areas with mild weather year-round or places that don't get a lot of heavy rain or snow. 
Orlando Kart Center
The Orlando Kart Center, located in Orlando, Florida, contains two outdoor tracks, an 8/10 mile long and a 6/10 mile long. These tracks are plenty of fun, with turns and curbs to test your ability! 
Orlando Kart Center's go-karts can reach speeds up to 45 miles per hour. Drivers must be up to 60 inches tall to race, and you do not have to call ahead to make a reservation. 
Located just 15 minutes away from Seaworld and the Orlando International Airport, this is a must-see stop if you're making a trip to Orlando. 
Kart Kountry, Kentucky
Kart Kountry, located in Shepherdsville, Kentucky, is the longest outdoor go-kart track in the world, spanning 1.5 miles long. Kart Kountry has several different size go-karts to choose from, so all ages and sizes are welcome. 
Kart sizes include:
Thunderbolts for drivers 16 years and older with a valid driver's license
Adult karts for people aged 14 and older and five feet tall
Junior Karts for drivers ten and older and at least five feet tall
I-Roc Karts for drivers seven and older and four feet tall
Double-seat karts for an adult and a small child.  
Whiteland Raceway Park
Whiteland Raceway Park is an outdoor go-kart track located in Whiteland, Indiana. Established in 1958, this park has provided over half a century of fun to racers nationwide. 
Whiteland even claims that numerous professional go-kart drivers started there at Whiteland Raceway. 
Available for rental kart driving and competitive racing, visitors will surely have a great time at Whiteland Raceway Park. 
Miami G.P. Raceway 
Miami G.P., located in Miami, Florida, provides guests with high-speed go-karts on a large outdoor racetrack. Miami G.P. Raceway track boasts 11 turns on a ½ mile track. You can even race at night at the track lights up! 
This go-kart racetrack is excellent for all occasions, including birthday parties, corporate events, or just a day of family fun. Visitors must be eight years or older to attend. 
Speed Zone
Speed Zone is an outdoor go-kart track venue in Pigeon Forge, Tennessee, offering four unique outdoor tracks in one location. 
For high-speed rides, visit the Slick Track; for intense, tight turns, take a ride on the Tennessee Twister, zoom up and down drive along with the Coaster, and for young kids to test their driving skills, the Kids Track is perfect. There's a track for everyone at Speed Zone.
The Track
The Track go-kart facility, located in Branson, Missouri, is one driver is sure to have fun at. With 12 different go-kart tracks to choose from, there is a track for everyone. You can experience "elevating, spiraling, twisting, and turning fun." 
The track offers family-style two-seater go-karts for all tracks, and for the rookie and kiddie tracks, kids as young as four years old can drive solo!
Go-Kart Racing with Indoor and Outdoor Tracks in the U.S.
Unfortunately, there are few go-kart racing facilities with indoor and outdoor tracks. Below are two venues with both types of go-kart race tracks that provide an experience that can't be had elsewhere.
Octane Raceway 
Octane Raceway, located in Scottsdale, Arizona, was the first official go-kart facility with a racetrack indoors and outdoors. The ⅓ mile track starts indoors before winding through an outdoor section, then returning inside. 
You can find no other go-kart track this unique in the entire country! Adult drivers must be 4'6″ tall with a valid photo i.d., and junior drivers must be 4'6″ tall with no age minimum.
Rascal's Fun Zone
Rascal's Fun Zone, located in Whitefield, Indiana, has three go-kart race tracks. Two of the racetracks are outdoors, and one is indoors. All of the tracks contain winding roads that make driving fun. 
The Family Gran Prix tracks, indoors and outdoors, have one and two-seater kart options and are for people of all ages. The Malibu Slick Track is more advanced and requires skillful driving. 
Visitors must be 60″ to drive the Malibu Slick Track, 56″ to drive the family tracks, and 44″ to ride along as a passenger. 
Buying Your Own Go-Kart for Indoor vs. Outdoor Use
Go-karts are available for individual purchase. Those who buy their go-kart will more than likely use it outdoors, either at an outdoor racing track, on off-road trails, on their private property, or in approved public areas. 
Driving a go-kart on the public road is also possible, but you have to make it street-legal. How to make a go-kart street-legal article explains in debt requirements for go-kart legalization.
Where Can a Personal Go-Kart be Driven?
Go-kart drivers should not try to ride their go-kart in any of the following places as they are illegal and, in many circumstances, pose a safety hazard:
Neighborhood sidewalks
Public roads (go-karts are classified as recreational or low-speed vehicles. They are not regarded as motor vehicles that can be driven on main roads like cars or trucks)
Public parks (if you think the park might allow go-karts, contact them first to be sure)
Private property of another without their permission
Go-Kart Pricing 
If you want to purchase your go-kart, one thing you'll be sure to consider is pricing. According to USA Karter, "A go-kart costs a minimum of $200 to $500, and prices can even reach up to $10,000 for the most advanced and powerful go-karts." 
The price range of go-karts varies so much because go-karts vary significantly in their performance and complexity levels. 
Before making a purchase, you must decide what qualities you are looking for in your go-kart and how much you can afford to spend. The following list contains some factors you'll want to decide upon before making your go-kart purchase:
Kid size vs. adult size go-kart
New or used go-kart
Go-kart use: for professional racing, off-roading, or just fun?
Gas-powered vs. electric-powered kart
All of these things, combined with the brand of go-kart you choose to buy and the price you can afford to pay, will help to determine the cost of your go-kart. 
Indoor or Outdoor Go-Karting: Which One is Better?
With so many factors going into the go-karting experience, everyone is sure to have a different location preference for where they go-kart. Factors such as driving experience level, weather, cost, and location proximity can all affect your go-karting experience. 
Therefore, neither indoor or outdoor go-karting is superior to the other. Indoor and outdoor go-kart tracks have different pros and cons, but only you can decide which option is better for you. No matter what, fun will surely be found at indoor and outdoor go-kart tracks.