The Lamborghini Go-Kart Pro, created in partnership between Segway Ninebot and Lamborghini, is the latest addition to Segway Ninebot's lineup of electric scooters. It could be the perfect option for those wanting a Lamborghini without dropping $100,000+ on a V12 supercar.
With its powerful electric motor, long-lasting lithium-ion batteries, authentic racing look, foldable chassis, adjustable seat, and four different speed modes, the Ninebot GoKart Pro Lamborghini Edition is a fun way to get your kids out of the house and away from the screen.
The Lamborghini Go Kart has a powerful 900W electric motor that provides up to 25 mph of top speed with a range of 15.5 miles. The lightweight, high-strength steel frame folds for easy storage or transport. Adjustable seat and handlebar heights allow children to sit comfortably while driving. Four-speed modes provide an exciting ride for all ages.
While the Ninebot Go-Kart Kit and the Lamborghini Edition build and designs are similar, the Lambo is twice as fast, has a Lamborghini-themed design, and goes even faster than the original version.
Lamborghini Edition Sale Price
You must be wondering just how much a Lamborghini go-kart is. The Lamborghini Edition of the Ninebot Go-Karts is available now for $2,199.99 (MSRP). The kit contains everything you need to assemble your limited edition Lamborghini Ninebot Go-Kart Pro, including the battery pack, motor, controller board, charger, and LED lights.
Check out the version below if you want something a little less flashy but with comparable performance.
Segway Ninebot Pro Specifications:
Motor Type: Electric
Motor Output: 900W
Battery Type: 432Wh Lithium-Ion (4h charging time)
Range: 15.5 Miles (25 km)
Maximum Speed: 25 mph (40 kph)
Dimensions: 559" x 335" x 236"
Total Weight: 113 lbs. (51.2 kg)
Max Rider Weight: 220 lbs. (100 kg)
Performance
With a top speed of 25 miles per hour (40 kilometers per hour) and an incredible battery life of up to 30 minutes, the Ninebot Go-Karts are impressive and offer strong performance. Another great thing about the kart is that you can select from various speed settings, making it suitable for a wide age group. These are the available speed modes:
5 mph (8 km/h) – Eco mode, longest lasting
11 mph (18 km/h) – Strada
17 mph (28 km/h) – Sport
25 mph (40 km/h) – Corsa, performance mode
Its powerful 900W electric drive unit generates a maximum longitudinal accelerating power of 1.02g (1.2g), and it's air-cooled by a large built-in 432 Wh battery. Four air vents keep the battery cool, ensuring it runs at its optimal operating temperature. With a range of up to 15.5m, you'll enjoy longer rides without charging the battery. 
Related Article: Ninebot Electric Mecha: A Comprehensive Review
Build Quality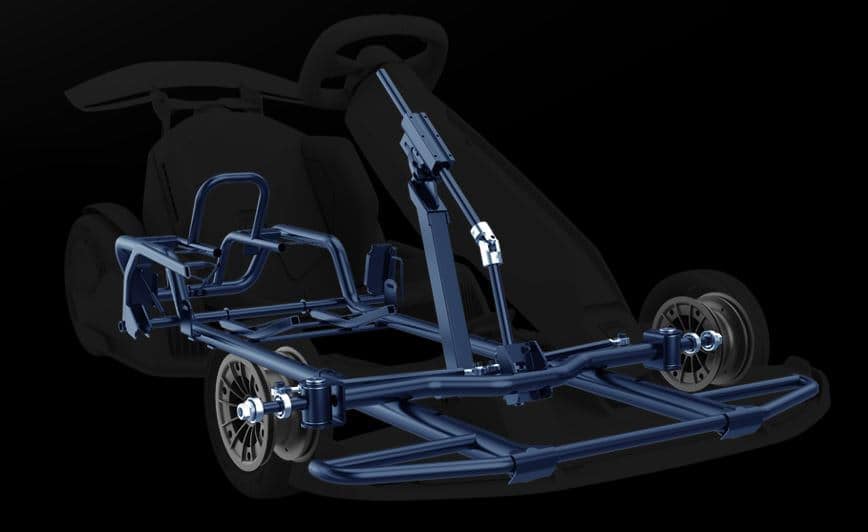 The Ninebot Go Kart Pro Lamborghini Edition has a sturdy and rigid metal chassis that can support up to 220 lbs. of weight. It's perfect for children and adult drivers alike!
One of the most incredible things about the karts' design is that they're foldable, which means that you can easily carry them anywhere. They fit into any boot or even on the back seat of a vehicle. Additionally, its relatively compact design adds to the overall strength of the kart.
Steering & Controls
Steering this electric kart is easy thanks to a steering mechanism featuring a Lamborghini-style race car design. The turning circle and overall responsiveness are improved with an Ackermann steering mechanism.
An electronic display at the center of your steering column shows you essential information about the car, such as its speed and the current gear setting.
The accelerator and brakes are operated by two pedals that are easily accessible.
The Lamborghini Kart has high-quality tires which provide a lot of traction, making it an enjoyable experience for drivers. Rear tires are multi-functional; they can be used for drifting and racing. The front tires are designed to provide maximum traction and control.
Comfort
The high-end bucket seats are well-cushioned at the base, back, and side. It adds to the overall driving experience and improves safety and protection.
Furthermore, the steering column, seats, and hand brake can be adjusted to fit the driver's size. It allows for an ergonomic driving experience without moving your body around, so you can easily access different car parts.
Overall, the ride is smooth because of its high-grade rubber tires. It can handle smooth and rough terrains without any problem but isn't designed for off-road races.
Related Article: Discover The 10 Best Off-Road Go-Karts For The Ultimate Adventure!
Safety
The Ninebot Go Kart Lamborghini Edition has several safety features, including an illuminated LED headlight that makes the vehicle more visible to others and a bright LED light that illuminates the path ahead.
Another great feature is the four-gear setting that lets you choose the appropriate gear depending on the driver's skill level. You can select Eco mode at five miles per hour (eight kilometers per hour), Strada mode at eleven miles per hour (eighteen kilometers per hour), Sport mode at seventeen miles per hour (twenty-seven kilometers per hour), and finally, Corsa mode at twenty-five miles per hour (forty kilometers per hour).
On top of that, the seats of the Lamborghini are equipped with a seatbelt to ensure that drivers are securely fastened to their seats at all times. The belts are also adjustable for kids and adults.
The high-strength frame will keep you safe in the event of a crash.
Additional Features
With so many additional features included, the Ninebot Go‑Kart Pro Lamborghini​n Edition is equipped with plenty of things. Besides various features already mentioned, the Ninebot Go-kart Pro Lamborghini Editions has Bluetooth connectivity, enabling you to check the battery level and set up the speed on your phone.
If you want to experience that epic V-12 engine noise, you can do that thanks to in-built speakers that play the sound with the push of a button.
And as a finishing touch, enjoy the fantastic rear wing, unique to go-karts, which is also functional and enhances the driving performance. 
Related Article: Best Street-Legal Go-Karts You Can Buy
Design
We're talking about its appearance here. With this electric go-kart being developed with the Italian automaker Lamborghini, these karts have to look good – and they do! This electric ride offers a truly outstanding design unmatched by any other go-kart.
It comes in the iconic Lamborghinis yellow color and features an authentic logo! Its sleek and stylish design is reminiscent of an actual Lamborghini supercar.
The front and rear spoilers give it an aggressive look. They stand out against the glossy yellow paint finish. All this combined will provide endless hours of fun.
Conclusion
The Ninebot GoKart Pro Lamborghini Edition is an exceptional electric kart that blends the excitement of Lamborghini with the innovation of Segway Ninebot. It boasts excellent performance, safety features, and a stunning design that will turn heads.
This Lamborghini Go-Kart Review highlights the numerous advantages of this exciting electric kart for thrill-seekers of all ages. Whether you are an adult looking to experience the feel of a Lamborghini or a parent seeking a unique and fun activity for your children, this electric go-kart is worth considering. Its impressive speed, range, and adjustable features ensure a thrilling ride while maintaining safety and comfort.