Imagine the excitement when my daughter found out about the Ninebot Electric Mecha! As a huge fan of electric scooters and self-balancing vehicles, she was eager to try this amazing fusion of driving and shooting games.
In this captivating review, I'll share her fun-filled experiences and insights from days spent exploring the ins and outs of the Ninebot Electric Mecha. We'll look at its cool features, performance, build quality, and more!
Ninebot Electric Mecha Features and Functionality
---
Specifications:
Brand: Segway
Material: Aluminum
Color: Dark Grey
Product Weight: 28.4 lbs
Max Payload: 220 lbs
Max Speed: 8.7 mph
Hill Grade: 15%
Dimensions: 45.3 x 21.7 x 46.5 inches
Compatible Models: Ninebot S, Ninebot S Kids, Ninebot S-PRO (excluding Ninebot S MAX and S-Plus)
Age Recommendation: 14+ years old
Warranty: 1-year limited warranty
---
The Ninebot Electric Mecha has cutting-edge features that stand out from regular electric scooters. Its driving and shooting game integration offers a super fun and interactive experience. Its three-speed modes cater to users of all skill levels, from newbies to pros!
The double joystick control system and smart remote control make the Mecha a breeze to maneuver, giving you smooth handling for a delightful ride. And when you connect it to the Segway-Ninebot App, the Mecha transforms into a remote-controlled shooting vehicle, taking the excitement to a whole new level!
List of All Features:
Joystick & Smart Remote Control: Flexible movement with double joysticks control
Intelligent Robot System: Built-in sound system for quick assistance and Bluetooth music playback
High-Strength Steel Frame: Comprehensive protection and collision avoidance
Human-Body Sensor in Joystick: Ensures safety by preventing accidental touch activation
Cool Lighting Effects: Customizable RGB ambient lights and front-shooting laser light
Smart Remote Control: Connects with Segway-Ninebot App for remote-control shooting capabilities
Water Bullet Shooting: Environmentally-friendly water bullets that evaporate without polluting the environment
Related Article: Segway's Lamborghini Go-Kart Review
Performance and Handling
My daughter has tried many electric scooters, so she knows what she likes regarding performance and handling. The Ninebot Electric Mecha offered a smooth, stable ride, and the double joystick control system allowed her to make super precise movements. She found it easy and fun to use!
While the Mecha's top speed of 8.7 mph isn't the fastest, it's perfect for casual use and gameplay. It strikes just the right balance between excitement and safety.
Build Quality and Durability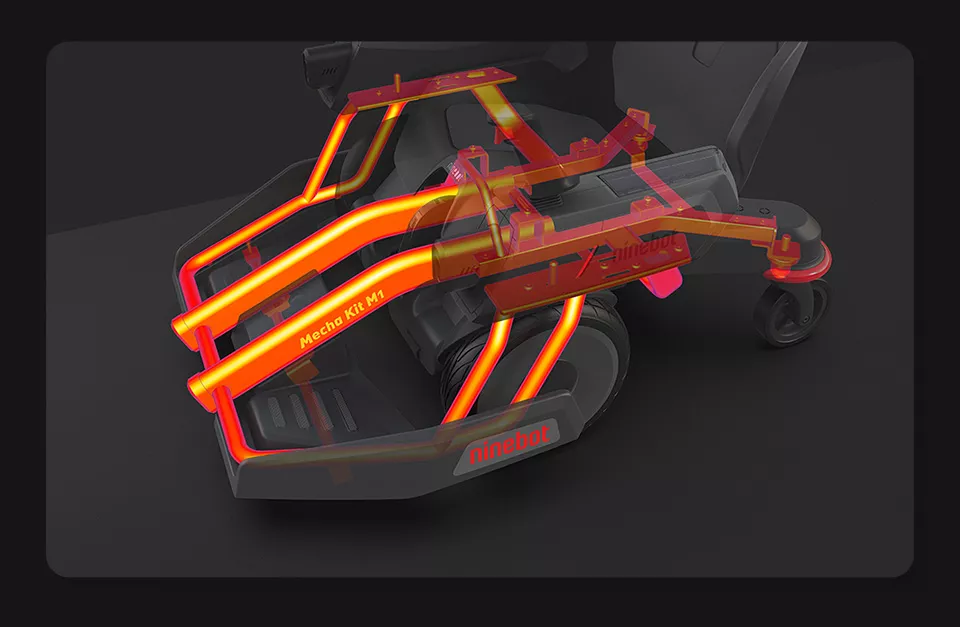 With its high-strength steel frame and aluminum construction, the Ninebot Electric Mecha is built to last. Its 220 lbs payload capacity is suitable for a wide range of users, so you can feel confident it can handle regular use.
My daughter found that the Mecha could handle small bumps and obstacles without getting seriously damaged during her testing. Its built-in collision avoidance system helps protect the vehicle and keeps it in great shape, even during rough play.
Safety Features
Safety is super important for the Ninebot Electric Mecha, which is why it has many safety features. The human-body sensor in the joystick stops the vehicle or water bullets from accidentally activating, keeping users safe. Plus, the ambient-light safety feature ensures you're visible and safe during nighttime rides—perfect for those who love exploring after dark!
Entertainment and Gaming Experience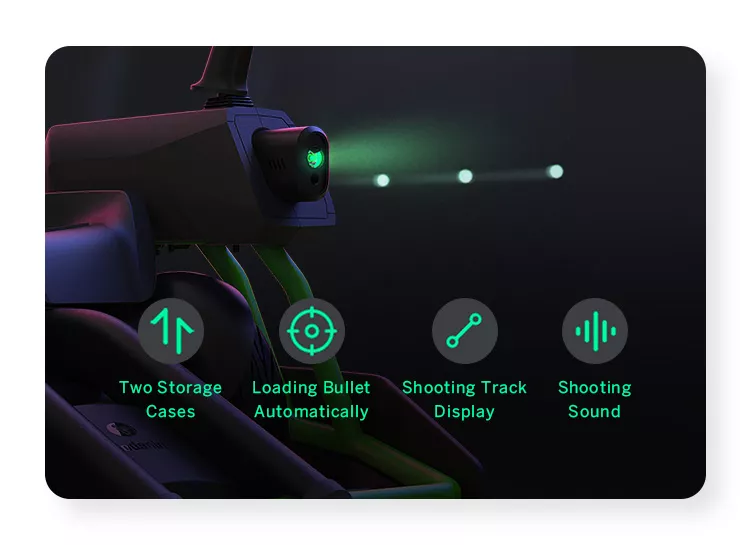 The Ninebot Electric Mecha's biggest selling point is its awesome integration of driving and shooting games. You can team up with friends for friendly battles or go head-to-head in competitive matches, adding a new layer of fun to riding. With voice assistance and Bluetooth music playback, the smart robot system makes the Mecha perfect for leisurely rides and parties, too!
Battery Life and Charging
The Ninebot Electric Mecha's battery life is awe-inspiring, giving you up to 12.4 miles of range on just one charge. That means hours of fun without needing to recharge all the time. And when it's time to power up, the Mecha's battery charges fully in just 4 hours, so you'll be ready for your next adventure in no time!
Related Article: Best Go-kart Batteries
Environmental Impact
One cool thing about the Ninebot Electric Mecha is its eco-friendly water bullets. They're made sustainably and evaporate into powder without polluting the environment. It's great to see a fun and good feature for the planet!
Portability and Storage
The Ninebot Electric Mecha's foldable design makes it relatively easy to transport and store. While it may not be as compact as some traditional electric scooters, the Mecha's unique features and capabilities more than justify the trade-off. When folded, the Mecha can fit in the trunk of most cars, ensuring you can bring it along on your adventures.
Value for Money
With its one-of-a-kind features, strong build quality, and engaging gaming experience, the Ninebot Electric Mecha offers great value for its price. It might not be the cheapest option, but Mecha's unbeatable entertainment value and solid performance make it a smart investment for those looking for a unique electric scooter experience.
Conclusion
After days of testing and having a blast with the Ninebot Electric Mecha, my daughter can confidently say that it's exceeded her expectations. The Mecha's innovative blend of driving and shooting games, intuitive controls, and solid build quality make it a real standout in electric scooters.
It might not be the fastest or most compact scooter. However, the Ninebot Electric Mecha's unparalleled entertainment value and engaging gameplay experience. This sets it apart from the competition. If you're seeking a fun, interactive, and thrilling electric scooter experience, the Ninebot Electric Mecha is an awesome choice.
Are your kids ready to dive into a new world of excitement and adventure? Give the Ninebot Electric Mecha a try. Trust me, you won't be disappointed! And don't forget to check out the Segway's Lamborghini Go-Kart Review for more exciting electric vehicle options!