An Essential Piece of Safety Equipment If you're interested in taking go-karting to the next level, it's essential to invest in the best go-kart racing suits. Racing suits are vital safety equipment covering your upper and lower body, offering maximum protection while on the circuit.
Regarding safety in go-kart racing, it's important never to compromise. Not only should you aim to protect yourself, but most go-kart racing events require wearing a CIK FIA homologation standard certified suit, guaranteeing that the suit meets specific manufacturing requirements.
The Commission Internationale de Karting (CIK) is an association of the FIA (Federation Internationale de l'Automobile) that certifies safety equipment and go-kart parts to set adequate safety standards within the karting industry.
As a result, it's crucial to ensure that your racing suit is CIK FIA homologation standard certified, with Level 1 being the most commonly used for national events and Level 2 being used for international events with a higher safety threshold.
For other guides related to safety equipment visit:
Indoor Racing Suits
It's important to note that certain indoor racing suits do not have any CIK FIA certification and are only suitable for indoor, casual, or recreational racing, not for FIA-regulated races. Therefore, when shopping for a go-kart racing suit, it's essential to make sure it's made of high-quality materials. If possible, CIK FIA homologation Level 1 or Level 2 standard certified.
Go-Kart Racing Suit Review
To help you make an informed decision, I've taken the time to review the top 8 go-karting suits on the market and shared my thoughts on their ranking based on material quality, ventilation, additional features, and comfort. In addition, I've provided links to each suit on Amazon, where you can purchase them if you choose. So without further ado, let's review the best go-kart suits on the market today.
1. Alpinestars KMX-3 V2
The Alpinestars KMX-3 V2 is our top pick for go-kart racing suits, striking the perfect balance between quality and affordability. Certified by the CIK FIA to Level 2, this suit is suitable for national and international races, catering to all skill levels.
---
Features:
Designed for professional drivers
Athletic fit overall
Advanced two-layer construction
Extensive mesh panels for breathability
Unique nylon stretch outer fabric
Plain polyester toweling for flexibility
Outer shell for durability and abrasion resistance
Poly-toweling lining for moisture wicking.
---
The suite boasts a two-layer main shell comprised of poly-cotton and a poly toweling lining, ensuring comfort and durability in equal measure. Strategic mesh panels at the legs, waist, and arms provide ample ventilation, ensuring you stay cool and comfortable during races.
The adjustable collar and waist belt of the KMX-3 V2 allows for a custom fit, while the anatomical arm, leg, and torso paneling deliver unparalleled comfort. With five different color and size options available, the Alpinestars KMX-3 V2 is one of the best go-kart racing suits on the market, bar none.
2. OMP KS-3
The OMP KS-3 is a true epitome of quality and performance, designed for serious go-kart racers. Certified with CIK FIA Level 2 homologation, this suit boasts exceptional durability, owing to its outer layer made of Cordura, a material known for its abrasion resistance. The OMP KS-3 comes in two color options – red/white and black/white – and offers three sizes.
---
Features:
30% lighter than the previous model
Same high level of protection and comfort
Lightweight external fabrics with soft-kitted inner lining
Breathable mesh inserts on legs, crotch, and sleeves
Elastic stretch panel in the lumber area for improved fit and comfort
The low-cut neck collar and elastic insert on the back
Modern design with an exclusive belt and "motorcycle suit inspired" zip closure
Wide range of colors for standing out
CIK-FIA Level 2 Homologation
---
The pre-curved sleeves, floating arms, and elastic bellows provide unparalleled mobility on the karting circuit, while the mesh panels near the thigh, shoulder, and pocket areas guarantee proper ventilation. Undeniably, the OMP KS-3 stands out for its exceptional freedom of movement and superior craftsmanship. It is a top-notch choice for racers seeking a premium racing suit.
3. Sparco Groove KS-3
The Sparco Groove KS-3 is a top-performing racing suit with a CIK FIA Level 2 rating, ideal for competitive go-kart racing. Made of abrasion-resistant Cordura, the suit is rugged and durable. The interior is lined with Sparco's signature terry cotton for ultimate comfort, effectively absorbing sweat to keep the interior dry.
---
Features:
Mono Sparco K39 Groove KS-3 FIA, size 120
Red/white color
Made of Cordura material
Two-layer composition with a total weight of 500/540 g/m²
Complete armhole and elasticized back panel
Breathable openwork elasticized inserts
Low neck, double zipper, classic waist, and pockets
Preformed sleeves
CIK-FIA N2013.1 certification
---
Mesh vents near the underarms and thighs provide ventilation, while stretch panels in the lower back and full-floating arms ensure comfort and ergonomics. Note: the link leads to the large-size variant, so be sure to choose the correct size.
4. K1 Race Gear GK2
The K1 Race Gear GK2 is an indoor and outdoor go-kart racing suit that is CIK FIA level 2 approved. It comes in an astonishing 15 different sizes and five different colors. It's a great entry-level suit with a double-layer Cordura fabric on the exterior, making it abrasion-resistant and extremely durable.
---
Features:
CIK/FIA Level 2 Approval
Abrasion-resistant double-layer Cordura fabric
Elastic underarms for 360-degree movement
Lower back and crotch stretch panels
Breathable, lightweight inner lining
Elastic wrist cuffs
Inner ankle cuffs.
---
Additionally, the suit features elastic inner ankle & wrist cuffs and underarms to ensure a great ergonomic fit. You get great movement in the suit; the lightweight inner linings keep the interior dry and breathable. There are also lower back and crotch panels that are noticeable and enable you to lean in all directions comfortably.
5. OMP Summer-K
The OMP Summer-K is a good racing suit for indoor go-karting. It lacks CIK FIA homologation but is made of a lightweight single-layer poly-cotton that's perfect for beginners. The suit boasts elastic components near the joints to improve mobility and a waist strap for a secure fit.
---
Features:
Lightweight and durable cotton fabric
Elastic knitted fabric for arm movement
Ideal for indoor karting
Single layer
No homologation.
---
With five size options and three color choices, the OMP Summer-K also features classic shoulder epaulets for a stylish look. Ideal for indoor recreational or casual go-kart racing, it's an excellent entry-level option.
6. JXHRacing RB-C06032
The JXHRacing RB-C06032 is an excellent choice for entry-level go-kart racing. Made of double-layer nylon fabric, it offers durable build quality. The suit features stylish flame strips around the wrist and ankle and comes in a red/white color. To ensure proper fit, select the correct size (the linked suit is medium).
---
Features:
Shiny nylon fabric with mesh lining
High strength and abrasion resistance
Tear resistance
Three colorway design
Concealed double-ended zipper
Velcro collar and belt
Elastic waist for adjustment
Knit rib design for cuffs and legs
Delicate embroidery logo
---
The mesh lining enhances the suit's strength and abrasion resistance. Adjust the fit easily using the double-ended zipper and Velcro collar & belt. The JXHRacing RB-C06032 is a fashionable and functional option for beginner go-kart racing.
7. RaceQuip SFI Suit
Introducing the versatile and budget-friendly RaceQuip SFI Suit, certified to meet the stringent SFI 3.2A/1 standards. This multi-purpose suit, designed for go-kart racing, is made from single-layer Pyrovatex material renowned for its flame-retardant and durable qualities. Available in three stunning colors and seven different sizes, the suit features stylish black shoulder epaulets, a customizable belt, and a high-back collar for ultimate comfort and ease of movement.
---
Features:
SFI 3.2A/1 Rated with tags affixed
Single-layer Pyrovatex FRC construction
TPP Rating of 11
Fresh and stylish design with black epaulets, harness, and high back collar
Contrasting black arm and leg stripes
Black wrist and ankle cuffs
Internal bag pockets
Two-way brass Nomex-backed zipper
Two-piece adjustable harness
Pleated back panel for flexibility.
---
With two internal pockets for storage, the back of the suit is elegantly pleated to offer additional flexibility when leaning. Lightweight and functional, the RaceQuip SFI Suit is ideal for all-around go-kart racing enthusiasts.
8. Alpinestars Indoor Kart Suit
The Alpinestars Indoor Kart Suit is perfect for casual and recreational go-karting enthusiasts, specifically designed for indoor racing. Available in two sleek color styles and seven sizes to fit all, this suit boasts a single-layer poly-cotton twill shell, ensuring durability and longevity. The adjustable waist belt allows the suit to fit snugly to your body, while the pre-curved sleeves and knitted cuffs offer ample flexibility and movement.
---
Features:
Adjustable waist belt for a personalized fit
Thigh pockets for convenient storage
Inner chest pocket with Velcro closure for mobile phone storage
Leg bottom with hook-loop adjustment and wide gusset
Knitted cuff to prevent unwanted movement of the suit.
---
Despite its sturdy design, the suit feels comfortable and easily controls movement, allowing for smooth cornering and leanness. Conveniently, the suit even includes an inner pocket for storage, and the neck area is fitted with comfortable padding to ensure a smooth fit with your helmet.
Expert's Guide to Picking the Perfect Go-Kart Racing Suit
Go-Kart Racing Suit Types
The type of go-kart racing suit you select should align with your level of racing. A premium CIK FIA Level 2 certified suit is necessary for professional racers who compete internationally. However, a single-layer indoor go-kart racing suit made from cotton may be more appropriate if you're a recreational racer who mainly participates in indoor races.
It's important to note that there are various racing suits – some for professionals and others for hobbyists. As such, it's crucial to determine the purpose for which you'll use your racing suit before making a purchase.
Go-Kart Racing Suit Materials
The material used in go-kart racing suits differs from that of auto racing suits. While auto-racing suits are typically made of NOMEX, go-kart racing suits are made from Cordura, Poly-cotton, or Pyrovatex.
Cordura
Cordura, a nylon and cotton blend, is a staple in top-performing karting race suits. This material gives race suits the crucial abrasion resistance required for the sport of karting. You can identify Cordura in a race suit by its matte coloring and rough texture. Although it is the priciest of the common materials used in karting race suits, Cordura offers unmatched protection, making it well worth the investment.
Poly-Cotton
Poly-cotton race suits are not ideal for the high-stakes sport of karting, especially if you're seeking a CIK-certified suit. Primarily used in indoor karting, these suits are unsuitable for professional outdoor races. While they are more comfortable and cost-effective, they do not provide adequate protection against the hazards of professional outdoor karting. Poly-cotton suits have a distinctive glossy look and a soft, silky feel.
Pyrovatex
Pyrovatex, known for its fire-resistant properties, is not recommended for professional karting. Often used in entry-level karting race suits at rental facilities, Pyrovatex provides essential fire protection at an affordable price. However, its abrasion resistance is lacking, and these suits are prone to tearing, making them unsuitable for professional karting.
Go-Kart Racing Suit Sizes
Getting the right size of go-kart racing suit is paramount. Whether getting a professional CIK FIA Level 2 certified suit or an indoor racing suit, it's essential to ensure a perfect fit.
Most go-kart racing suit manufacturers provide an extensive sizing guide that you can use to determine the right size for you. The guide usually includes height, weight, chest, and waist measurements.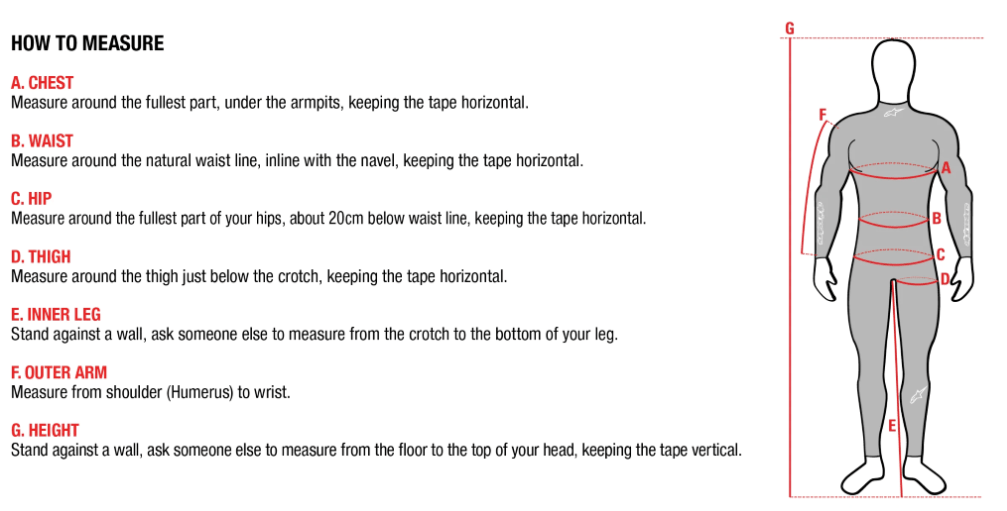 Go-Kart Racing Suit Designs
The design of your go-kart racing suit is a matter of personal preference. Each suit typically comes in various color options and stylistic designs, so you can choose the one that best suits your style. The suit's design does not impact its performance, so you're free to choose based on your taste.
Go-Kart Racing Suit Features
Professional go-kart racing suits tend to have more advanced features than entry-level or indoor racing suits. For instance, premium racing suits often have a double- or triple-layer design, which provides higher abrasion resistance and comfort due to extra padding.
Another key feature is mesh ventilation, which promotes interior aeration. This is a common feature found in professional and certified racing suits. You may also want to consider zippers, pockets, and padding.
Go-Kart Racing Suit Safety
Safety is a paramount concern, particularly for high-speed motor sports like go-karting, where exposure to the track surface is direct and protected only by the suit. Therefore, it is essential to evaluate the level of engagement in go-karting and make informed decisions about the suit.
An indoor karting suit made from premium, durable materials for leisure or recreational drivers may suffice. However, for those competing professionally, semi-professionally, or on an asphalt track, a multi-layer racing suit, such as one made from Cordura, with exceptional abrasion-resistant properties and meeting necessary safety certifications like CIK FIA Level 1 or Level 2, is highly recommended.
The Cost of Go-Kart Racing Suits
The pricing spectrum of go-kart racing suits varies greatly. Professional racing suits cost three to four times more than entry-level indoor suits due to the added features and premium materials used. The design and cost of the suit are ultimately determined by personal involvement in go-karting and budget.
For other go-kart safety standards, please visit Go-Kart Safety Standards For 2023 and Beyond.
Conclusion
This buying guide and review list aim to simplify the decision-making process for purchasing a go-kart racing suit. Remember to prioritize safety, consider the level of involvement in go-karting, and check the safety certifications required for the type of racing.
Frequently Asked Questions
Is a Go-Kart Racing Suit Necessary?
It depends on the level of involvement in go-karting. Recreational tracks may permit normal clothing, but an indoor or entry-level racing suit is advisable for those who take the sport more seriously. Certified go-kart racing suits are mandatory for event participants and protect against accidents and collisions. A CIK FIA Level 1 or Level 2 suit would suffice.
What is the Difference Between Go-Kart Racing Suits and Auto Racing Suits?
Auto racing suits may be used for go-karting. Still, a go-kart racing suit is more suitable and cost-effective, made from Cordura, poly-cotton, or Pyrovatex instead of the more expensive Nomex used in auto racing suits. Go-kart racing suits are also more flexible and ergonomic for navigating corners during races.
How Do I Wash My Racing Suit?
Washing Your Racing Suit Consult the manufacturer's instructions for washing the racing suit. A general guideline is to use a mild detergent on a low-speed setting in a normal washing machine, then hang it indoors to dry. A dry cleaning option is available, but more expensive and usually unnecessary unless prohibited by the manufacturer's instructions.
Are there any special design features for female go-kart racing suits?
Some go-kart racing suits are designed specifically for women, taking into account differences in body shape and size. These suits may feature a tapered waist and wider hips for a better fit, as well as different design options.
What is the difference between a single and multi-layer go-kart racing suit?
A single-layer go-kart racing suit is lighter and more breathable, while a multi-layer suit offers better protection and durability. The choice between the two depends on the racer's preferences and needs.