Massachusetts boasts an impressive array of indoor go-kart racing facilities that cater to individuals of diverse ages and groups, providing an exhilarating and entertaining experience that is difficult to match. The state's preponderance of such venues, within 30 miles of the bustling metropolis of Boston, is a testament to its thriving karting culture. At these centers, racers encounter uniquely designed and arduous tracks that put their skills to the test while being afforded the choice of electric or gas-powered go-karts to pilot.
Best Go-Kart Tracks in Massachusetts
If you are ready, look at the 4 Best Go-Kart Tracks in Massachusetts.
Related Article: Best Go-Kart Tracks In Buffalo
1. Supercharged Entertainment
For the karting enthusiasts in Massachusetts, Supercharged Entertainment is a must-visit facility. Spanning over an extensive 125,000 sq. ft. in Wrentham, about 40 minutes south of Downtown Boston. This remarkable venue promises a dynamic and electrifying experience for all. Its unparalleled race track sets the scene for an enthralling ride, allowing for abundant fun-filled activities such as Ninja Wipeout, arcade gaming, and trampolining.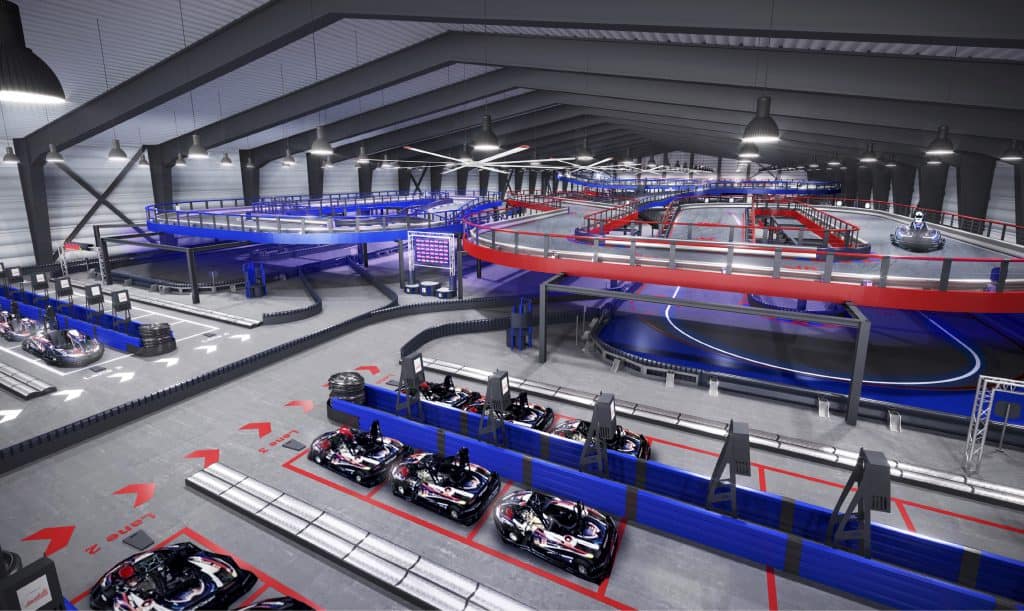 As for karting, Supercharged Entertainment provides various arrive and drive packages, racing leagues, parties, group/corporate events, and team-building activities that cater to every need.
Notably, the facility features two exceptional multi-level indoor karting tracks, each with distinct characteristics and a spine-tingling ride. These tracks can also be merged to form the astonishing Super Track that spans over 80,000 sq. ft., a revolutionary concept in Massachusetts.
These tracks are made with graded material and are maintained meticulously. The tracks have an efficient lighting system and offer a combination of turns and straight sections, ensuring an exhilarating ride. The multi-level feature enhances the complexity of the race, providing a thrilling experience with multiple elevations.
The go-karts at Supercharged Entertainment are the new RiMO karts built in Germany, and they are highly acclaimed for their high-speed, high torque, and amazing speed capabilities, reaching top speeds of up to 40 mph. These electric-powered karts are perfect for indoor racing. The added advantage of being all-electric is that they emit zero gas or noxious odors, making it an eco-friendly choice.
---
2. Pioneer Valley Indoor Karting
Pioneer Valley Indoor Karting offers a one-of-a-kind experience that is not only thrilling but easily accessible from neighboring Vermont and Connecticut. It has been deemed one of the best racing arenas in Massachusetts and offers a perfect blend of fun and excitement for adults and kids, complete with axe-throwing.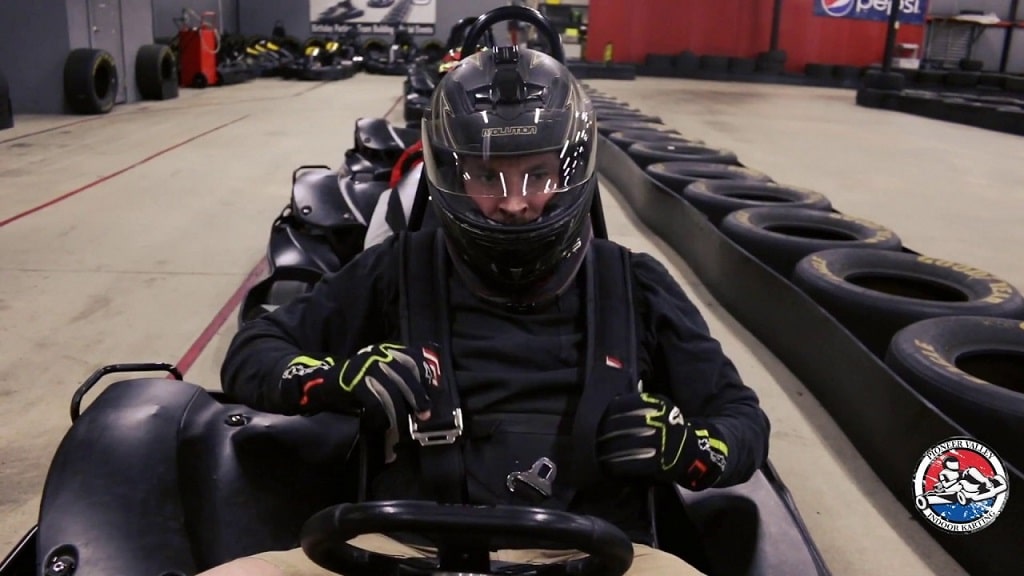 At Pioneer Valley Indoor Karting, karting enthusiasts can enjoy a wide range of options, including arrive-and-drive packages, racing leagues, heats, seasons, parties, group/corporate events, team-building activities, and many other opportunities to experience the thrill of go-karting with family and friends.
The Pioneer Valley Indoor Karting track measures an impressive 1,000 feet, accommodating racers of all levels, from amateurs to seasoned professionals. With its winding 12 turns and extensive straight sections, the track offers an adrenaline-pumping and entertaining ride every time. It is expertly maintained, ensuring that it is always in optimal condition for racers to compete head-to-head with friends and family.
Pioneer Valley Indoor Karting offers two types of karts, one for adults and one for kids. A 6.5 hp gas engine powers the Sodi GT5 karts for adults. They are said to be the fastest karts in Massachusetts, reaching remarkable speeds of up to 50 mph, providing excitement and an adrenaline rush like no other. The junior karts, also Sodi karts, are equipped with 4.6 hp engines, reaching a top speed of about 25 mph, and are ideal for young and aspiring racers to learn the ropes of go-karting in a safe environment.
While Pioneer Valley Indoor Karting does not have a bar or grill, there is a small snacking area where you can enjoy some refreshments with your friends, providing a great and welcoming area to relax and unwind while you wait for your next race.
---
3. K1 Speed Boston
K1 Speed Boston in Wilmington, Massachusetts, is an exceptional facility that offers a unique and authentic go-kart racing experience rather than just another amusement park outing. Conveniently located for Woburn, Reading, Burlington, Stoneham, and Wakefield residents, this stand-out venue boasts state-of-the-art equipment and services, as expected from any K1 Speed facility. Racing leagues, birthday parties, corporate and group events, meetings, and team-building activities are all offered, with the option to book the venue at any time.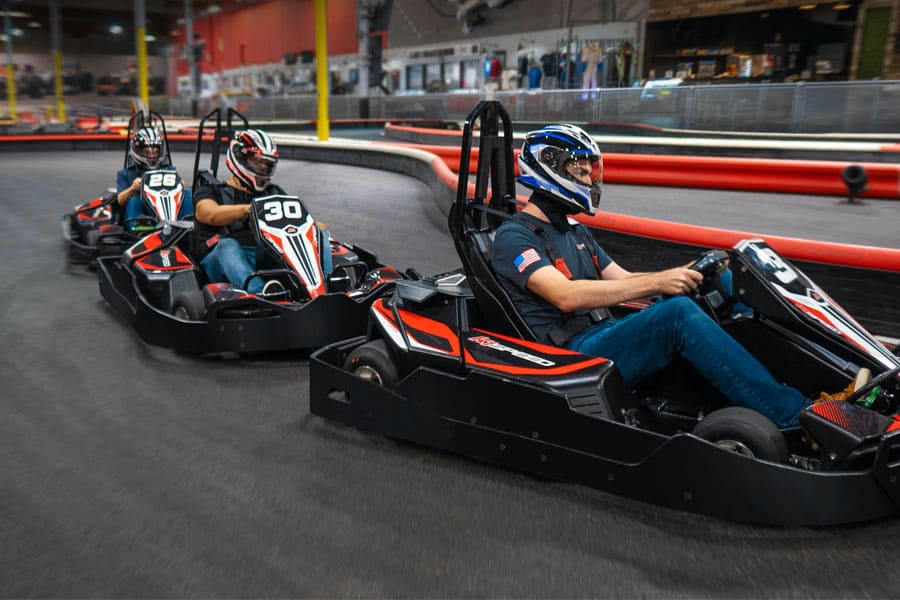 K1 Speed Boston typically features a single track, but its Boston location has two separate and unique tracks that pose a significant challenge for racers of all experience levels. Each track is carefully crafted with twists and turns that guarantee an exhilarating ride, with added excitement thanks to their generous width, which provides ample overtaking opportunities. Moreover, both tracks feature high-quality lap timing systems, and the fastest laps are posted online for racers to compare their times with others.
At K1 Speed Boston, Italian-inspired, all-electric go-karts are used. These OTL Storm OFD karts are of exceptional quality, offering a thrilling ride that reaches top speeds of about 40 mph. The electric motor ensures quick acceleration and zero emissions, providing a safe and environmentally-friendly karting experience. The karts are also designed with safety features to ensure the well-being of all racers.
K1 Speed Boston has a cafeteria named the Pit Café, where you can indulge in an array of appetizers, main courses, fast food, drinks, and beverages. It is the perfect spot to recharge and refuel between races, allowing you to savor excellent meals with family and friends before returning to the track for some high-speed racing.
---
4. Apex Entertainment Marlborough
Apex Entertainment Marlborough is a magnificent 100,000 sq. ft. facility that offers many activities for friends, families, and colleagues. As an idyllic holiday destination in Marlborough, it offers an opportunity to create everlasting memories with your loved ones.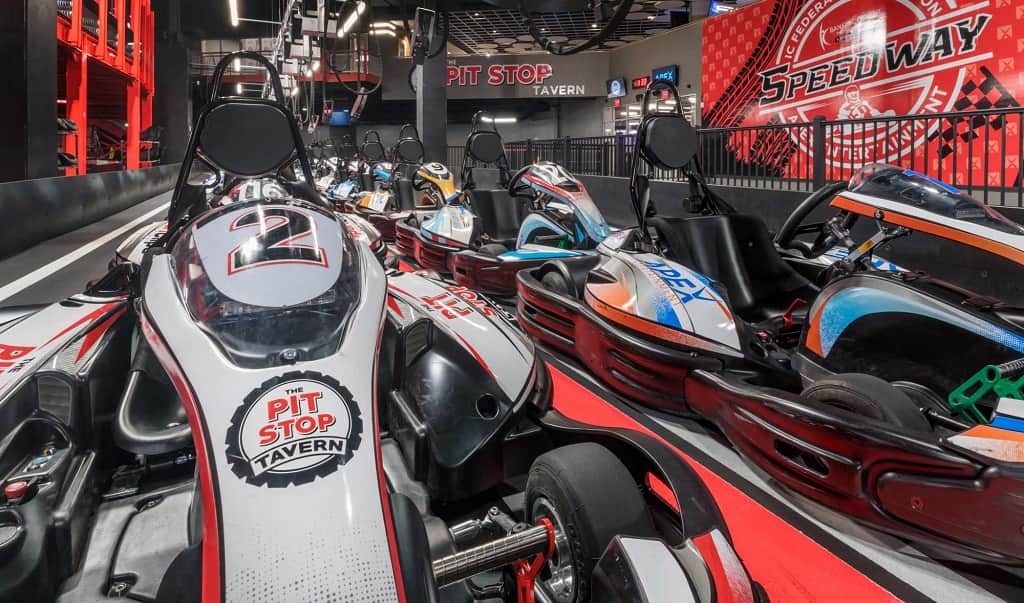 Apart from the exhilaration of go-kart racing, the facility boasts bowling, rope courses, laser tag, arcade gaming, sports simulators, bumper cars, and various other activities. With options like arrive-and-drive deals, go-kart racing leagues, and booking the facility for parties, group/corporate events, and team-building activities, Apex Entertainment Marlborough is a one-stop shop for a day of fun-filled adventures.
The multi-level indoor karting track at the facility is unique and exhilarating. The track comprises several hairpin turns, high-speed straight sections, and sharp elevation changes, making it extremely challenging and enjoyable. Whether you're a seasoned racer or a novice, the Apex Entertainment Marlborough track will surely provide an unforgettable go-karting experience. The race track is always open and ready for you and your family to come and have a day of fun.
Apex Entertainment has 26 RTX Sodi karts capable of reaching up to 45 mph. These karts are powered by electric engines that are highly efficient and environmentally friendly, emitting no noxious odors or gases, keeping the indoor environment of the track clean and inviting. The karts also come with unique safety features and are user-friendly and ergonomic, providing a fun racing experience for both experts and novices. The minimum racing requirement is 58 inches tall.
To keep hunger at bay, Apex Entertainment has a restaurant within the facility where you can indulge in excellent meals and drinks with your friends and family. With a vast selection of starters, pizza, salads, burgers, sliders, hotdogs, sandwiches, wraps, sides, and beverages, there's something for everyone at the restaurant.
---
Conclusion
Massachusetts has numerous exceptional indoor go-kart racing facilities catering to individuals of all ages and groups. These centers offer uniquely designed and challenging tracks that test racers' skills while providing a thrilling experience.
The abundance of venues within a 30-mile radius of Boston reflects the state's flourishing karting culture. The reviewed facilities, including Supercharged Entertainment, Pioneer Valley Indoor Karting, K1 Speed Boston, X1 Boston, and Apex Entertainment Marlborough, offer a wide range of options, such as arrive-and-drive packages, racing leagues, parties, group/corporate events, and team-building activities.
With high-quality karts and expertly maintained tracks, these facilities provide an adrenaline-pumping and entertaining ride, making them a must-visit for karting enthusiasts in Massachusetts.